Boston United manager Craig Elliott reacts to National League North season being cancelled
Clubs voted to null and void step two, it was revealed last night...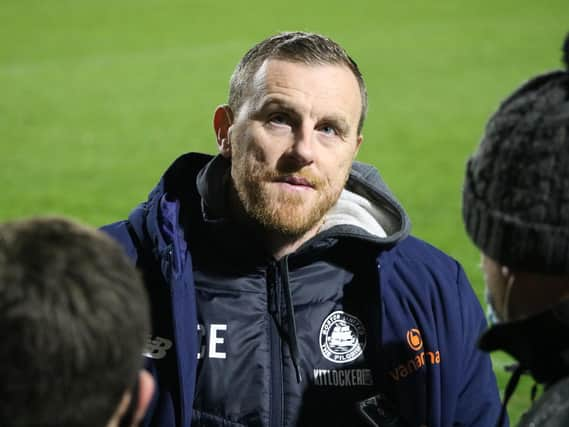 Boston United's squad shared an 'emotional moment' last night when news filtered through that the National League season had been axed, manager Craig Elliott has revealed.
"It was bizarre. We had a really good training session and I was turning to Macca (assistant John McDermott) and saying 'we look brilliant'.
"They were superb. I put a session on and they were all at it and looking forward to playing the next two games.
"We were training superb then my phone started going crazy in my pocket and I thought 'I know what this is'.
"I pulled the lads together at the end of training and it was quite a sad moment. it was quite an emotional moment.
"It's them I feel sorry for mostly. It's their careers and there's a couple who haven't probably got many years left in front of them."
Elliott, whose playing career was ended early by injury, has always encouraged his players to make the most of their time in football.
Seeing his squad, many of whom are at the peak or tail end of their careers, miss out on action has left him frustrated.
"A lot of people don't see the efforts and sacrifices these players put in behind the scenes," the manager added.
"They spend less time with their families, juggling work and being part-time players. They work so hard behind the scenes.
"To not play football, that's what most of them live for. They've lost that feeling on a Saturday, and to not play football, it'll be hard for some of them to overcome that.
"We finished training and there were lots of questions: when will we start again? What happens this season and next season?
"Some of them even hoped we could still play Saturday. This is the thing really, it's never happened to any of us and it's difficult to get your head around it.
"This last year has been difficult for everybody - outside of footballl as well - and we'll stick together and get through it, but hopefully there's light at the end of the tunnel and we can get crowds back, get back together and do what we love doing."
So much of football is about living in hope, and having last night's news confirmed came as a hammer blow to Elliott.
"I felt like something would happen to allow it all to continue, so I was in shock at the news," he said.
"The voting was tight and I, perhaps naively, felt this wouldn't be allowed to happen because we came so far."
Elliott and chairman David Newton, who called last night's news a 'bitter blow', had called for a four-six week suspension of the league in a bid to allow the campaign to continue.
"I think we we (Newton and Elliott) were both in agreement," the Pilgrims boss said.
"It would have given us time to take stock and exhaust all possibilities about how to play football.
"We're at a point now where we can see light at the end of the tunnel with vaccines and the country getting started again.
"For football to start now, I think in three or four weeks we'll all be sat at home wondering why we're not playing football."