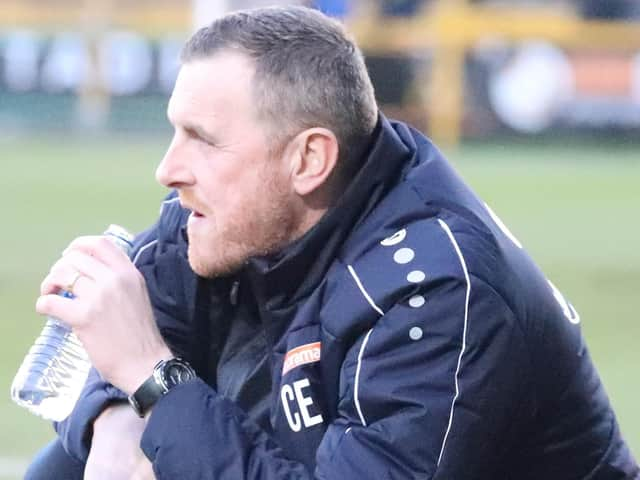 Elliott's request to attend Brackley Town's quarter-final clash with with Gateshead was declined as the numbers of people allowed in stadiums is kept to a minimum.
But now the United manager will be able to cast his eye over his potential semi-final opponents from the comfort of his own home.
"I asked if I could go in person and I was told I can't," Elliott said.
"It's quite important (we get to see the game) because we all know teams are going to be different from what they were three or four months ago."
Elliott was also pleased the fans would be able to watch the game.
"They've been with the club all season, and before that as well," he added.
"It's only right they get to see what is the biggest game of the season."
Vanarama National League North
Sunday 19 July 2020 (KO 1.30pm)
Elimination Round – Match A – Altrincham vs Chester FC
Sunday 19 July 2020 (KO 4.00pm)
Elimination Round – Match B – Brackley Town vs Gateshead
Saturday 25 July 2020 (KO 3.00pm)
Semi-Final – York City vs Winner of Match A
Saturday 25 July 2020 (KO 5.30pm)
Semi-Final – Boston United vs Winner of Match B
Saturday 1 August 2020 (KO 3.00pm)
Promotion Final – Stadium of highest-ranked finalist
Vanarama National League South
Sunday 19 July 2020 (KO 1.30pm)
Elimination Round – Match A – Slough Town vs Dartford
Sunday 19 July 2020 (KO 4.00pm)
Elimination Round – Match B – Bath City vs Dorking Wanderers
Saturday 25 July 2020 (KO 3.00pm)
Semi-Final – Havant & Waterlooville vs Winner of Match A
Saturday 25 July 2020 (KO 5.30pm)
Semi-Final – Weymouth vs Winner of Match B
Saturday 1 August 2020 (KO 3.00pm)
Promotion Final – Stadium of highest-ranked finalist