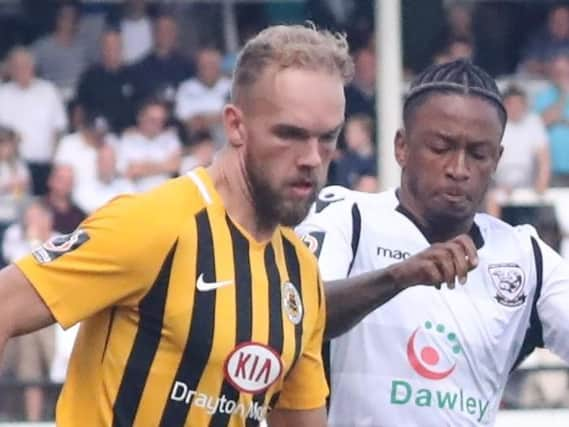 The Pilgrims will meet on Saturday to undergo COVID-19 testing, which will allow them to resume training next week as they prepare to push for promotion in the National League North play-offs.
The squad may not have been together since March 12, but Elliott won't accept a summertime feel in the camp.
"I've had talks with all players this week and we've got to come back with a mentality of being competitive and not having that pre-season feel to it," he said. "Fingers crossed we can do that."
"We're looking to do it (testing) this weekend and that helps us start training next Tuesday, hopefully.
"Me and the chairman are trying to get everyone to meet up at the weekend, get it all done as much as we can. That's down to availability of all players.
"They all need to have the tests before they start training and that's trying to get to stage one as quickly as we can. That's important.
"Nicky Walker, in the very early stages of it, believed he had it, but everybody's fit and healthy at the moment. I'm looking forward to it."
Walker and George Willis, who were on loan at Gainsborough Trinity when the season was halted due to the coronavirus pandemic, are in contention to play.
And Elliott hopes that will also be the case for Jake Wright, Frank Mulhern, Simon Ainge and Jordan Nicholson, who were all on loan at York Street when play stopped.
"Everybody's involved," Elliott added. "There's still just a couple to sort out who need to sign the consent forms so we have the official confirmation they're prepared to play.
"There's no pressure on anybody to feel like they have to play but, obviously, it's a big thing for themselves and the club.
"The league alluded to the fact there'd be a lot of flexibility to loan signings so we're quite hopeful the loan signings will be able to play."
Matt Challoner, who joined Boston from Chorley days before the season was suspended, is yet to play for the club. And despite signing for Southport for next season, he could still be in line to make his United debut.
"He's still a Boston United player," Elliott told The Standard.
"It'll be down to most players if they want to play in the play-offs and most players are really positive and want to be part of that. That's including Matt."
United have found a new training base a few miles from their usual haunt at Doncaster's Keepmoat Stadium, which remains closed.
Elliott has described the club's new training centre as 'perfect', and not just because it's close to where they normally meet up.
"We've got somewhere sorted just outside Doncaster. It took a lot of sorting out but we're slowly getting there," he added.
"It's just seven or eight miles outside Doncaster so it's not too bad. A nice grass surface as well, so it's perfect to be honest."
The play-offs will provisionally begin on July 18-19 but may be moved due to BT Sport's interest in screening matches.
The first rounds will, if all teams agree to take part, see Brackley Town face Gateshead and Altrincham take on Chester.
Third-place Boston would meet the winners of the Brackley-Gateshead game and York City, who finished second, await the victors in the other contest. These games have been pencilled in to take place on July 25-26.
The final looks set to be played on either August 1 or 2.
"(These dates) give us enough time to get through stage one, with enough planning and preparation for what will be a massive game for all clubs," said Elliott, who is still unsure whether he would be allowed entry to watch his potential opponents face one another.
"I'm not sure if it's on BT sport or I can be there personally, but a lot of these play-offs will be about your own team rather than the opposition.
"It's about preparing your own team mentally and physically for what will be a massive game.
"The club's put a lot of work in, not just financially, but work as well behind the scenes to make sure we can take part."