COLUMN: We desperately need experts, but Liverpool boss Jurgen Klopp still offers a touch of class
Duncan Browne agrees with Reds boss that he's not the one to deliver Coronavirus news, but still takes inspiration from his words...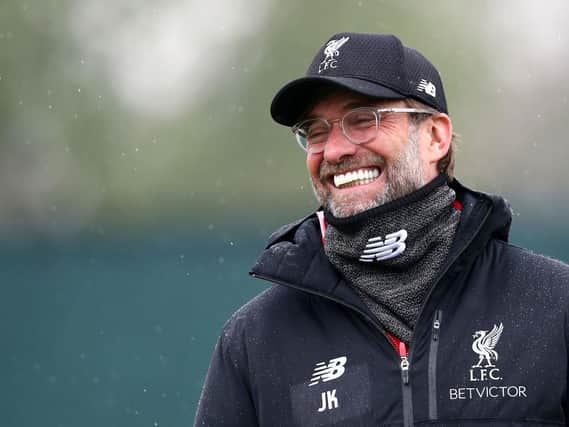 I've never really cared what Jose Mourinho thought about the panic-buying of toilet rolls and pasta.
Arsene Wenger's musings on a new runway at Heathrow? Pah!
And as for whether Big Phil Scolari was outraged or delighted by the final series of Game of Thrones? Couldn't give a flying one, mate.
That's why, last week, I found myself gleefully chuckling as Jurgen Klopp dealt with a press conference question about the Coronavirus in his own unique style.
"It's not important what famous people say," he stated.
"We have to speak on things in the right manner, not people with no knowledge.
"Politics, Coronavirus, why me? I wear a baseball cap and have a bad shave."
Asking sports people their views on a global pandemic is as helpful as asking your Valentine their thoughts on the pedestrianisation of Norwich city centre.
As if that wasn't enough, Klopp offered us more on Friday following the news that the Premier League season was to be suspended, with his side just two wins from being crowned champions after a 20-year wait.
"If it's a choice between football and the good of the wider society, it's no contest. Really, it isn't," the German said, oozing class in a club statement.
And herein lies the conundrum.
While Klopp is correct that we should be taking our lead from experts and not armchair pundits, the first few days since the outbreak hasn't seen Downing Street particularly forthcoming with info.
Carry on as normal. Herd immunity. Loved ones will die isn't much of a mission statement is it? Then came the mixed messages on Monday. Hide your grans, send your kids to school but don't go to pubs unless you want to is raising more questions than are being answered.
In comparison, Klopp's message was succinct, sensible and soothing to hear.
Whether you think this will all blow over in a matter of weeks or you are at home truly scared for you and your loved ones, the musings of Klopp - a down-to-Earth, highly-likeable, well-respected guy - actually offer some perspective and sense in a crazy era of social media and misinformation.
People buy clothes because a reality star wears them. Grown men get angry about vegan sausage rolls because a bloke on breakfast TV isn't a fan.
This is the influencer-heavy society we have become, so it's hardly surprising people want to know what a successful football manager thinks of it all.
If Government ministers tell us we've had enough of experts and the beardy German in the cap says we need to listen to experts then we, as a society, need to start choosing between truth or entertainment.
Personally, I thought Klopp's point was spot on. In a time of crisis we should look for - and be given - a clear message, not a Facebook algorithm of 5G conspiracy theories.
The Liverpool boss, rightly, doesn't want to be the voice of the Coronavirus.
And yet the words he used to end his statement of Friday seem like some of the most important ones to share at this time: "Please look after yourselves and look out for each other."