Louth will be confident of adding another six points to their tally at home to Sleaford Town Rangers on Saturday and away at Appleby Frodingham on Wednesday, but Martin said: "We have said before anyone can beat anyone in this league and if you take anything for granted you can get undone.
"We went to Sleaford last year at their place and went down 1-0. They made it hard for us.
"It is probably easier to raise your game against the top teams, but you have to give sides near the bottom the respect they deserve as they are fighting for their lives.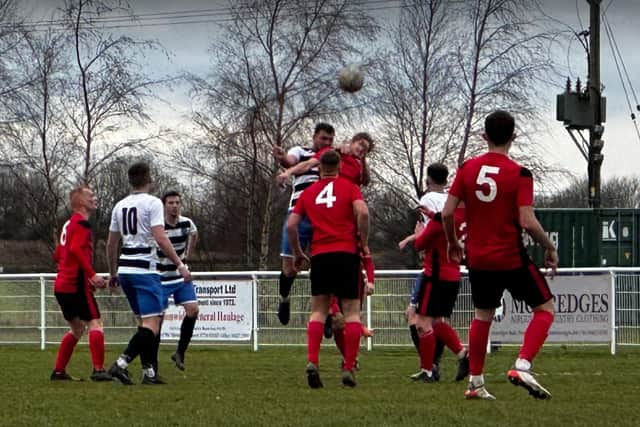 "Before Saturday there were 17 games left and 51 points to play for.
"As far as we are concerned in our camp it is a marathon and not a sprint, so we just take it one game at a time. There is a long way to go.
"There is no point in going away to top of the table teams and beating them in their own back yard if you going to get undone at home against one of the bottom sides. We ned the same mentality, focus and desire as we showed at Crowle.
"So it will be business as usual for us. We will show respect but take the game to them and be on the front foot."
Oliver Webber netted twice in five minutes on Saturday to see off Crowle.
"Second v third – it was a huge game for us," said Martin.
"To be fair we were down to bare bones with only 14 players available due to injuries, suspensions and unavailability.
"But we set out a game plan and to be fair to the lads it worked like an absolute dream.
I have to applaud their effort and commitment. What we asked them to do, they carried it out and passed the test with flying colours.
"We opened the scoring from a corner around the hour mark and made it 2-0 five minutes later.
"They got one back with 10 minutes to go, but we held firm, defended superbly and the lads put their bodies on the line. It was a monumental effort from the team.
"We did tell the lads before kick-off to just treat it as another game. But we knew second v third would be close."
He added: "We will have the two suspended lads on Saturday and hopefully a couple back also who were unavailable.
"But we are also looking at bringing in another two or three new faces as, with our fixtures backlog, we are looking like playing two games a week for the rest of the season and the squad is going to be stretched if we pick up more injuries and suspensions.
"We do have the reserve side and we can call on them, but I still think we need two or three more bodies in."​​​​​​​​​​​​​​​​​​​​​​​​​​​​​​​​​​​​​​​​​​​​​​​​​​​​​​​​​​​​​​​​​​​​​​​​​​​​​​​​​​​​​​​​​​​​​​​​​​​​​​​​​​​​​​​​​​​​​​​​​​​​​​​​​​​​​​​​​​​​​​​​​​​​​​​​​​​​​​​​​​​​​​​​​​​​​​​​​​​​​​​​​​​​​​​​​​​​​​​​​​​​​​​​​​​​​​​​​​​​​​​​​​​​​​​​​​​​​​​​​​​​​​​​​​​​