Many have taken to social media to criticise the handling of the game, calling it "farcical", "a joke" and a "shocking decision".
The fixture had already been postponed twice earlier in the season because Melton's 3G pitch was unplayable.
When it finally kicked off last night at the third time of asking, there was already plenty of snow on the pitch, more falling and more forecast.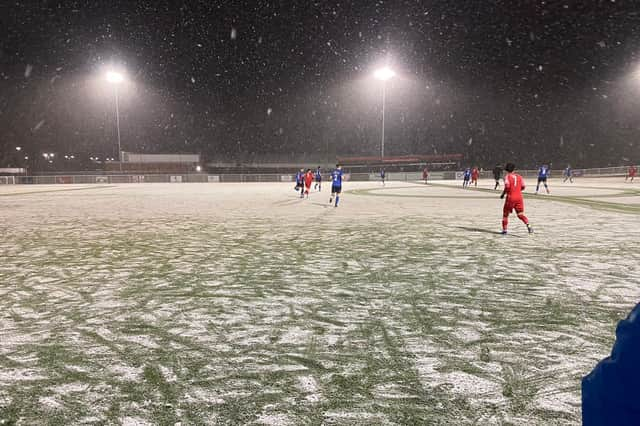 But the Poachers made light of the blizzard conditions to go into the interval 3-0 up, thanks to a double strike from Jordan Nuttell and a goal from George Hobbins.
A tractor was summoned at the break to clear some of the snow so the rest of the match could be played – only for the officials to decide to call it off, much to the bemusement of many observers.
Kevin Oxford said on Twitter: "3 up only for the game to be called off, so much for all weather pitches."
Marc Webber added: "This is a shocking decision by the United Counties officials. Where's the money coming from to fund the rearranged fixture?"
Roger Smith said: "Boston were giving Melton a lesson on how to play in those conditions. Think it was farcical not to try."
And Matthew Goy said: "What a joke, did the ref not see the weather reports?"
Tom Carter and Darren Trapps, commentators for Lincolnshire Non-League Radio, agreed that the Poachers should be awarded the points.