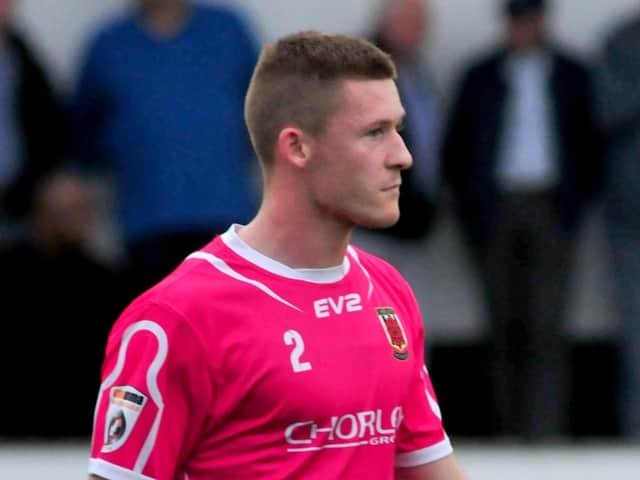 Matt Challoner.
Matt Challoner could still make his Boston United debut - despite signing for Southport.
The defender joined the Pilgrims in March after leaving National League side Chorley, but has not featured for the club.
He linked up with his new teammates for one training session before contests against Chester and Darlington were postponed due to the COVID-19 outbreak.
The entire National League North schedule was then put on hold before it was later decided the outstanding league fixtures would not be played.
On Friday United's league rivals Southport announced that Challoner had signed a contract to spend next season at the Pure Stadium.
However, with the prospect of Boston still being involved in some form of play-offs, the right back's contract was extended and he is still, at present, a Pilgrims player.
Challoner will be a Southport player next term, but the FA will not rubber stamp the move until Boston's campaign is officially over.
United boss Craig Elliott has not ruled out Challoner featuring, if Boston's season is still to be completed.
"This is the thing, he's still technically our player and still with the club," he told The Standard.
"I think that's down to the individual and whether they want to play.
"He's agreed to join Southport and I don't know what his thought process is in terms of whether he would want to play as he knows he won't be here next year.
"I think that there will have to be a bit more flexibility if we are to play play-offs.
"It's been a strange time for players but we want to know what their commitment to Boston United will be."
While some of United's rivals are doing business, Elliott finds himself unable to follow suit until his season is officially over.
This is arguably an advantage were the club to secure a promotion but equally leaves the side playing catch-up if it is announced their campaign will not continue.
"Players are talking to clubs and other teams are doing business and I'm not able to retain or release players at the moment. We're stuck in limbo," added Elliott, who remains keen to see his side take part in play-offs.
"It's something we've not seen before and we have to look at the best way to manage that."
"It's frustrating when you don't know if we're working towards finishing this season or preparing for a new one.
"I think it's obvious we're waiting to see what divisions above do and we'll take the lead from that. But it's frustrating not knowing what that decision is.
"I do hope there's an opportunity to try to finish off what we've started."
Loanees Simon Ainge, Jake Wright, Frank Mulhern and Jordan Nicholson should be eligible to feature for United in play-off contests as they were available for selection when the campaign was concluded.
But they would need to be free agents and agree to sign short-term deals.