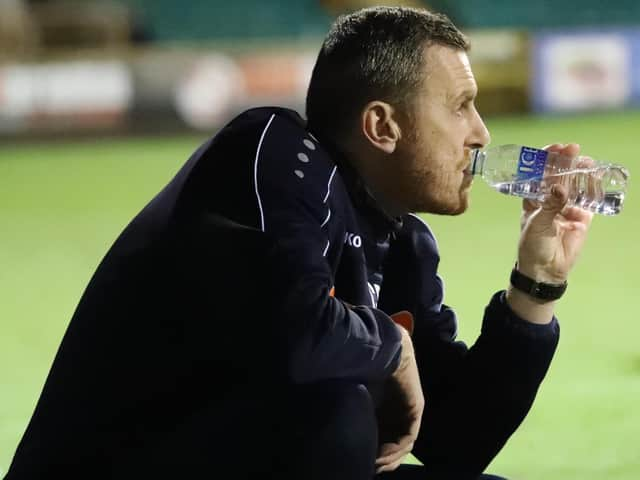 Craig Elliott. Photo: Eric Brown
(Nicky Deverdics 16, Dominic Tear 38, Jordan Preston 72)
Craig Elliott accepted that the 'best team won' as Boston United were beaten by Gateshead... but he still accused his players of downing tools.
The Pilgrims' eight-game unbeaten run was well and truly ended at York Street this evening as the Heed replicated their 3-0 win over Boston at the International Stadium in September with a performance full of confident, attacking vigour.
"We were poor. I said to them, you always expect runs to come to an end. But to lose in that manner is disappointing," the United manager said.
"I'm not hiding away, players are responsible as well. Their attitude and application after going 2-0 down was so poor.
"It was a mixture of us being poor and them being an excellent team, but a really disappointing night."
Tonight was the fourth time Boston have been beaten 3-0 this season, twice by Gateshead and also by Gloucester City and King's Lynn.
"It's a worry because the losses that we have, we seem to cave in," Elliott added.
"When we're good, we're good. When we lose it's 2-0 or 3-0.
"That's the disappointing thing. If a run comes to an end you want it to be because you're unlucky or a refereeing decision. but there's none of that tonight.
"Its purely, they downed tools. It's their biggest insult a player can have. I'm in shock, we've been on an excellent run."
Elliott did, however, have some praise to dish out to Gateshead.
He continued: "We were way off it tonight and we're playing a good team who can punish you.
"I think their midfield's really good, as good as anybody in this league. If I'm honest, the two games we've played against them, they've totally dominated the midfield.
"We've got nowhere near them and sometimes you've got to say you've been beaten by a better team."
Playing attractive, attacking football, the Heed stormed into a 2-0 interval lead, Nicky Deverdics finishing off a neat team move with a perfectly-placed 20-yard curler and Dominic Tear smashing home from close range after Boston failed to clear their lines.
Jordan Preston twice tried his luck but saw his efforts denied by Peter Crook.
Boston were no slouches either, their quick-flowing game asking questions of the visitors.
Frank Mulhern saw a flicked effort chested off the line by Deverdics while Dominic Knowles couldn't convert Tom Platt's low drive.
Gateshead keeper Brad James also deserved the plaudits for a fine low save after Andi Thanoj danced through the away side's defence.
As the second half wore on Gateshead were happy to kill the pace of the game, but still saw Greg Olley blaze one well off target.
It was 3-0 when Olley broke free and unselfishly teed up Preston for a simple tap-in.
United chased the game second half, but headers off target from Simon Ainge, Scott Garner and Jake Wright, plus a deflected Jordan Thewlis strike, was the only real pressure they exterted.
BUFC: Crook, Rollins, Whittle (Jackson HT), Garner, Ainge, Shiels, Platt, Abbott (Thewlis 60), Knowles (Wright 76), Mulhern, Thanoj; Subs (not used): Heslop, Warren.
HEED: James, Tear, Nicholson, Agnew, Cooper, Williamson, Oliver, Deverdics, Preston (Curry 89), Olley, O'Donnell; Subs (not used): Cranston, Pattison, Symons, Guthrie.