Craig Elliott gives his take on Boston United signings Terry Hawkridge, Jordan Archer, Tyrell Warren, Josh Askew and Jake Frestle
Pilgrims bolster squad with new arrivals...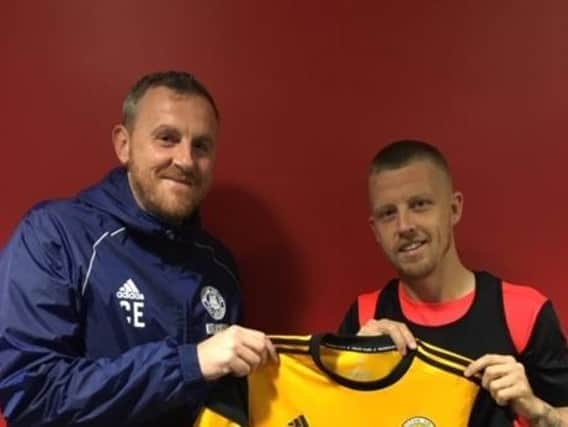 Boston United's summer signing spree has continued this week with the arrival of more fresh and familiar faces.
Manager Craig Elliott gives the lowdown on his latest acquisitions...
Winger Hawkridge, 30, has won the National league with Lincoln City, and also played alongside Matt Tootle and Ross Fitzsimons at Notts County. He joins after leaving Solihull Moors.
"I'm really surprised how quickly we got him. I knew of his availability five or six weeks ago but thought it was going to be a deal we couldn't get. I expected him to have a lot of offers but obviously things develop and I was delighted when we became a serious option for him.
"It got done pretty quickly. I'm trying to add a lot more quality in the final third and there's not many better than Terry in terms of what he brings. You want the experience as well, still a good age. It's a terrific signing for us.
"He knows about the project, the new stadium. But ultimately he wants to play in a team that's looking for promotion."
The 26-year-old striker has a strong pedigree in non-league, and recently had spells in the Football League with Bury, before they folded, and Port Vale.
"I think he's a striker that needs to find a home, somewhere to be loved a little bit. I was a massive fan of his at Stourbridge. I really thought he'd kick on and do a Jamie Vardy really and do well in the Football League, he has everything needed to do that.
"He did well at Chester but obviously the Bury situation didn't help him and he dislocated his shoulder at Port Vale. It was just a couple of things that didn't help in League Two, but he's still a very good age, athletic and if we can get him firing again he'll be a really good signing for us.
"Speaking to him, he wants to get back to being a figurehead of a team. If he works hard and I work hard with him he can do good things with us."
Left back Askew, 22, came through Blackburn Rovers' youth academy and won the National League North title with Salford City in 2018. He spent last season on loan at Curzon Ashton.
"He caught my eye last year in both games. He did a great job on Jay Rollins and played well and got forward well.
"We invited him down to training and straight away he was so infectious with his enthusiasm. He's a great lad and a really positive influence around others.
"He was so desperate to come, it was so refreshing. He wanted to play for a big club, and he knows a few of the lads already. He knows Ty (Warren) and Connor (Dimaio) really well from Curzon, they're really good mates. He's one of those personalities that makes him a likeable lad. I'm all for lads like that.
"I'm looking forward to seeing what he can do. He's got that bit of experience playing for a team that wants to do well. He'll be a good signing for us."
Warren, 21, spent time on loan from Salford City last season but has joined on a permanent basis. He came through Manchester United's academy.
"Ty's a real player and if I'm being honest he was very close to pushing Matt Challoner in the play-offs. I think it was Challoner's experience that got him the nod in the end.
"I thought Ty was the stand-out trainer when we came back for a month. He impressed me so much when we signed him last year. He's versatile as well, he can play left back, centre back. His attitude is superb.
"I watched him in a pre-season friendly playing left back for another team. He's that type of lad if you put him anywhere he'll give everything and he's just like that in training. He trains how he plays and plays how he trains. It's nice to have lads who will play anywhere and still give everything."
Last season's youth team keeper has signed first-team forms with the Pilgrims.
"He's been superb, he's really improved a lot, this isn't a token gesture. I've been speaking with his goalkeeping coach (Rich Lawrence) and we've been really impressed with how much he's improved.
"I think he deserves it. He's got his head down and knows he has a lot of improvement to do, physically filling out a little bit.
"But he's more confident around the lads. He's going to stay with us and work with us preparing for games right up until Christmas. Then we'll reassess it and see where he's at, whether he needs to go out and get games.
"But these next three or four months will improve him again just by being around good goalkeepers in Crooky and Ross (Peter Crook and Ross Fitzsimons).
"When he first came in he looked like a young lad and he was a bit nervous, but I think he's come on leaps and bounds. I'm really impressed."