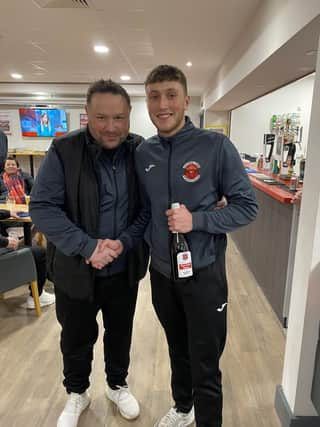 ​It had been a difficult week for the Lilywhites after news that current player Adam Jackson, who had also featured for a number of Lincolnshire clubs during his career, had passed away at the age of 34.
Rawlinson paid tribute to Jackson on Twitter, saying: "Knowing Adam for many years, first at Spalding where we nearly achieved promotion and then as skipper the next season, then again this year, [he was] always positive, annoying as and always with the best intentions, I will miss him and hope you are at peace mate."
As clubs across the county paid their own tributes, Skegness travelled to Quorn to face a side battling for promotion.
Rawlinson said: "I have to admit we were soundly beaten, as we have been three times now by them this season.
"They have certain attributes in their play which are difficult for us to deal with in the attacking areas and you could say they are our bogey side.
"Our first half performance was miles off it but we conceded after ten seconds to an individual error and it was uphill from there.
"We nearly got to half-time to re-group but they then scored with the last kick of the half from a corner and on a massive 3G pitch it was always going to be difficult.
"Another individual error then put us three behind three minutes into the second-half but fair play to the lads, they reacted to the first-half and began to be braver on the ball and got a deserved goal and could have made it interesting but another individual error finished the game.
"But in all fairness to everyone involved we have done so well for a few months now, even against teams with much bigger financial resources such as Quorn, so we do have to put it down to a bad day at the office and move on starting next Saturday."
Skegness now go to Heather St John's this weekend, a side fighting against relegation.
Rawlinson added: "It will be tough at Heather as they are fighting for their lives and we have nothing other than pride for the shirt to play for but I have challenged the lads to have a really good end to the season to set us up for next and this starts on Saturday.
"We need to get back to what we are good at, risk free defending, being difficult to cope with and ultimately scoring goals which has been tricky recently."