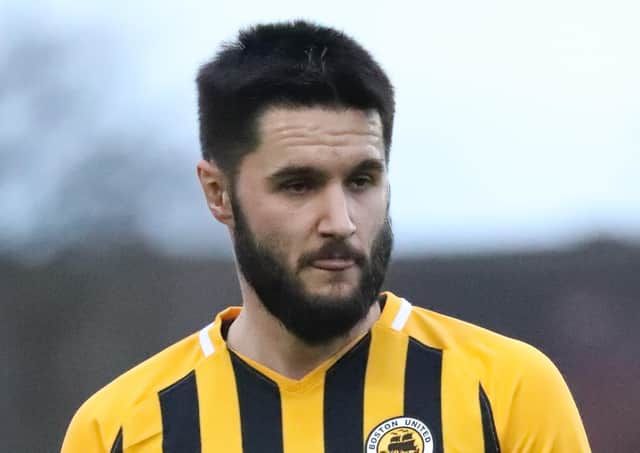 Dominic Knowles.
The National League North Pilgrims travel to League One Dale on Sunday (KO 2pm) desperate to pull off an FA Cup upset.
And Knowles believes that, whatever the outcome, United can't come off the Spotland turf with any regrets.
"I always think that, unless you're playing someone like Man City you may as well have a good go," he told The Standard. "There's nothing worse than coming off a pitch thinking 'we just defended for 90 minutes and got beat'. You might as well have a go.
"Things might change, scenarios might change in a game. You might have to go on the defensive.
"But if you give 100 per cent effort then at least you come out the game thinking 'we had a good go and got close'."
United have reached the FA Cup's second round for the first time as a non-league side in 23 years, and they are desperate to keep the run going into the third round, where the Premier League and Championship clubs enter the draw.
"It's a really good tie for the club, they haven't been this far for a number of years," added striker Knowles, who has scores in his past three appearances for the Pilgrims.
"It's good for us lads as well as we can test ourselves against higher-league opposition.
"We're going to want to go there to win. We'll try our best to and, if we do, you never know, we might even get a Prem team."
Victories over lower-league Stamford, Sutton Coldfield, Hednesford and Carshalton Athletic have seen United progress to round two where, for the first time this season, they won't be the favourites. But Knowles is adamant that can work to his side's advantage.
"We'll be underdogs for the first time, the pressure's off and we can play some good football," he said.
"Hopefully, Rochdale's pitch is decent so we can play the good stuff we have been playing lately."
United face their fifth consecutive away tie in the competition, but Blackburn-based Knowles isn't bothered.
He added: "It's four hours to a home game and four hours back, so it'll be nice to have one that's half an hour away."