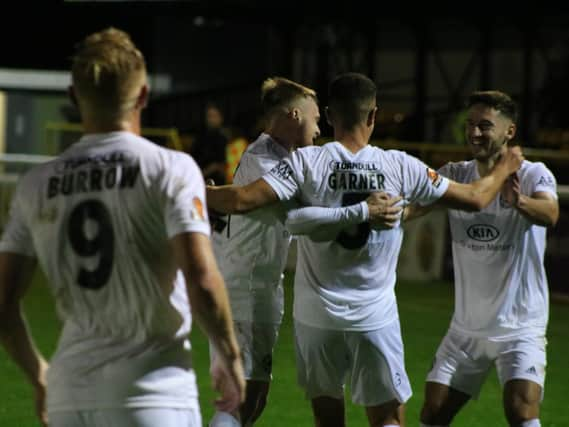 Boston United's squad and staff have been advised to self isolate for a fortnight - which could force the club to forfeit this week's FA Cup tie.
Due to the players being told to self isolate, Tuesday's visit of Hemel Hempstead in the FA Cup looks unlikely to go ahead which - under current rules - would see the away side progress to the next round.
Next Saturday's league clash at Bradford Park Avenue already looked set not to go ahead following a case of COVID in the Yorkshire side's camp.
A statement from United read: "Following the statement released on Friday evening regarding a first team player who tested positive for Covid-19, further measures have been implemented.
"This initial decision was based on an index case at which time no-one else showed symptoms of COVID-19.
"The plan at that time, agreed by the COVID Medical Officer (CMO) and National League Medical Team (NLMT), was to remain hyper-vigilant, continue to follow Government guidance and all the players and staff were duly informed.
"This remained under constant clinical assessment and in line with current Government guidance.
"Unfortunately, a further player reported symptoms today (Saturday). He is now self-isolating and awaiting a COVID-19 test. Despite no positive diagnosis, other than the index case, the most recent period of contact between these two individuals was at the match on Tuesday night, at which time all players were asymptomatic.
"There is no evidence that the two cases are linked, however the symptoms exhibited by the second player could potentially be attributed to COVID-19.
"As a precautionary measure, the CMO has taken the necessary steps, following consultation with the club and the NLMT, to remain in line with current Government guidance and mitigate any potential risk.
"The resulting actions are; players and staff from Tuesday night's game are advised to self-isolate for two weeks, and Leamington FC and Guiseley AFC have been informed.
"United staff and players have been briefed and are updating the CMO to report and manage any changes to their health, and the Government's Test and Trace agency has been notified.
"We hope that United players and staff all remain in good health and we will keep you updated should any further developments arise.
"We are looking at the implications for the scheduled fixtures and will provide further information when available."