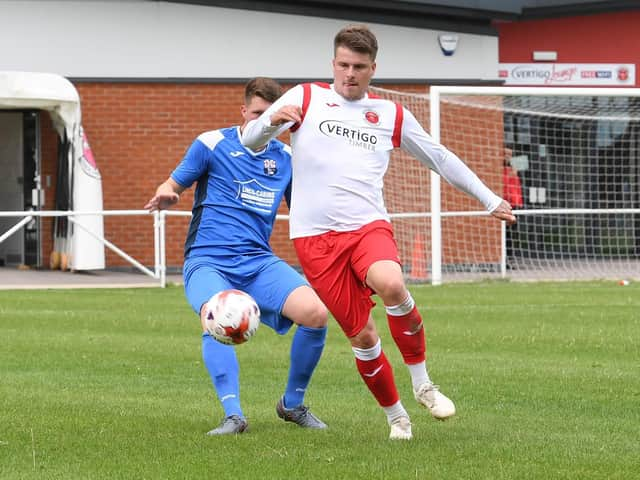 The Northern Counties East League say they hope for an earlier-than-expected start to the 2020-21 season, ahead of a web conference with the FA.
Skegness Town play in Division One of the NCEL.
The Football Association are expected to outline plans for the reintroduction of grassroots football when they convene on Friday, with league representatives from Step 5 and 6 of the non-league pyramid.
NCEL secretary Matt Jones said that whilst the original scheduled start date for the new season – August 1 – seems unrealistic, he hopes that the delay will be little more than a month or two.
"We obviously would like to start as soon as it is safe to do so," he said.
"But health is the most important consideration, and that includes everybody involved with the clubs.
"We're hoping for a nice early start, possibly September or October time, but I've heard all sorts of rumours flying around that it may be as late as January.
"But I don't know anything for definite, we're all in the dark at the moment."
With elite football returning to our screens on Wednesday and Leagues One and Two concluded using points-per-game, Mr Jones said he felt disappointed that the same method was not implemented further down the non-league ladder.
The FA made the call on March 26 to expunge the season for Steps 3 to 7, eliminating promotions and relegations for all leagues concerned.
"As a league we wanted a points-per-game settlement and our position hasn't changed on that front," Mr Jones said.
"I accepted the FA's decision as they are our governing body, however it's frustrating that they've applied the points-per-game basis to leagues higher up but not for us."
A late start to the new season could pose further financial obscurity for grassroots clubs, who rely heavily on gate receipts and bar revenue on match days.
Considering the financial importance of fans being present at games, Mr Jones said that playing behind closed doors is not a viable option.
"All clubs that provided feedback have said that they do not wish to play behind closed doors because they will lose money," he said.
"They'd still have to pay players' wages without receiving any match day income."
The FA's plans could also reveal the fate of the 2020-21 FA Cup campaign in which, for grassroots, a successful run in the qualifying rounds can boost revenue by thousands of pounds.
"It would be good to know at least whether there will be any qualifying rounds for clubs like ourselves or any FA Cup at all next season, just so that we can financially prepare for it," said club chairman Andrew Saunders.
"That money we won in the FA Cup last year has been a huge help for us in doing work at the ground which we needed to do – it's a vital source of income for loads of clubs like us.
"We just need to know what the potential scenarios are."
As for playing staff, Friday's decision could provide much-needed clarity for the players and coaches who await the green light to return to training.