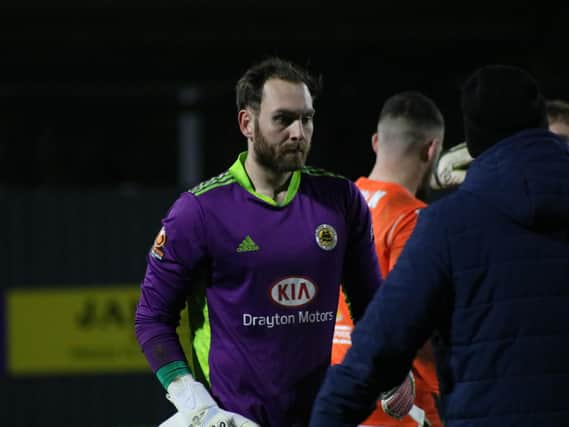 Referee Jon Kenny brandished four red cards as Boston United and Chester played out a goalless draw.
The two sides couldn't be separated over 90 minutes, but their players - and staff - had to be as tempers flared.
United had Jordan Thewlis and Mitch Rose dismissed while coach Lee Stratford and Chester manager Bernard Morley also got their marching orders,
Stratford walked four minutes into the second half, appearing to raise an arm to Chester's Jamie Morgan as he stopped Scott Duxbury taking a quick throw in.
Morgan made a meal of the contact as he dropped to the floor, Chester's John Johnston seeing yellow for his part in the afters.
But the flurry of reds came 10 minutes from time.
Thewlis was sent off for an off-the-ball swipe at Kevin Roberts, who had tangled with the Boston man as play broke forward.
Referee Kenny could have saved himself a lot of trouble had he blown early for the grapple instead allowing the hosts' advantage.
Instead, Thewlis went, as did Morley for shoving Rose - who had already been substituted - as tempers flared. Rose shoved back and met the same fate.
Jordan Burrow - frustrated by a string of top stops from Blyth's Brendan Pearson in midweek - found Seals keeper Louis Gray is similar mood.
The Boston striker's near-post run saw him connect with Andi Thanoj's teasing cross, only to be denied by an instinctive block from the legs of Gray.
But anything he can do, so can Ross Fitzsimons, the United stopper making himself big and blocking John Johnston's close-range strike after he'd been teed up by Brad Bauress' inch-perfect pass.
In an open first half the two teams continued to trade blows, the two keepers again standing firm as Gray pounded away Thanoj's stinging 20-yarder and Fitzsimons got down well to palm away Bauress' goalbound effort.
When Terry Hawkridge did finally get the better of Gray, Chester right back Roberts got himself in the right place to make a clearing header, a pat on the back from Gray his thanks.
Another Thanoj delivery, this time from a free kick, looked goalbound after Paul Green got his head to the ball. But somehow, a deflection forced the effort wide when the net looked set to ripple.
And Green was left wondering how wasn't on the scoresheet again after his close-range finish was forced away by another instinctive stop by Gray.
The second half saw more red cards than chances, but Gray pulled off another impressie save as he clawed away Thanoj's header and Danny Elliott pulled a late drive wide of Fitzsimons' goal.
UNITED: Fitzimons, Tootle, Duxbury, Garner, Shiels, Thanoj (Leesley 86), Green, Burrow, Thewlis, Hawkridge (Rollins 65), Rose (Platt 65); Subs (not used): Dimaio, Preston.
CHESTER: Gray, Roberts, Morgan, Weeks, Livesey, Grand, Johnston, Glendon, Elliott (Waring 90), Lacey (Dudley 81), Bauress (Jackson 70); Subs (not used): Roberts, Goodwin.