Gainsborough Trinity boss says side must react better when playing with 10 men
Trinity boss Curtis Woodhouse says his side must react better to playing with 10 men after they were thumped 5-0 at Cleethorpes Town.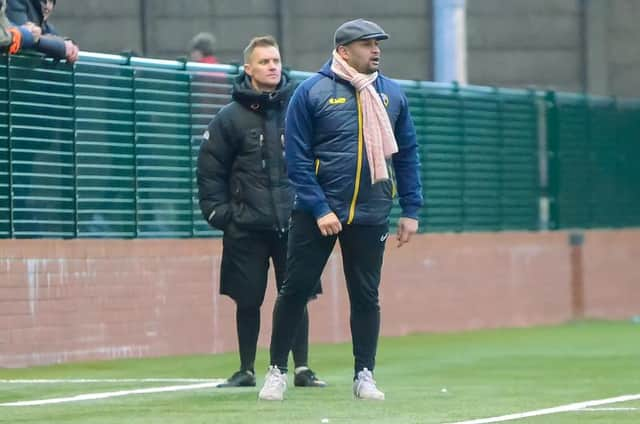 The Holy Blues collapsed and trailed 5-0 at the break after having Ben Tomlinson sent off for a scuffle following a bad challenge after just 27 seconds.
"It was not ideal and getting a man sent off after 27 seconds really knocked the stuffing out of us," he said.
"We will have times when we go down to ten in the season and we need to react better hn we did today.
"It took us a while to get to grips with where we were. We were better in the second half, our shape was better and we didn't get pulled about as much - but we need to react better.
"It didn't give us much to play for and we were chasing the game, it was a kick in the teeth.
"It's something for us to learn from. It is pre-season so you are learning about your team and different things.
"We learnt plenty and we were much better when we came out for the second half, we didn't get dragged around as much."
But Woodhouse was keen to put the result into some perspective and remains confident Trinity will be ready to go when they open the league campaign against Hyde on 19th September.
"It is important to realise where we are at and take it for what it is," he said.
"We have to learn from every game - it is just building those blocks and like preparing for a fight - you need to be ready when the bell goals.
"It doesn't matter how the last two spas went as long as you are ready and we will be ready for when the bell goes.
"We have got 4-5 important players out injured and it really showed.
"We are where we are and we have got where we got, a lot of lads struggled in the first half.
"When you look at what is underneath the strength in depth isn't what I'd like to be at the moment.
"I'm still looking to strengthen where we need it, we are a work in progress."
The game saw 252 fans watch from the stands as crowds start to return to football.
"It was good to see fans back in the ground and shows we'r e starting to get back to normality," added Woodhouse. "Our fans travelled well but we didn't give them much to shout about."