"He's ready!" Lewis Gibbens arrives at Boston United to battle for central defensive spot - Craig Elliott
Manager backs defender to have promising Football League career...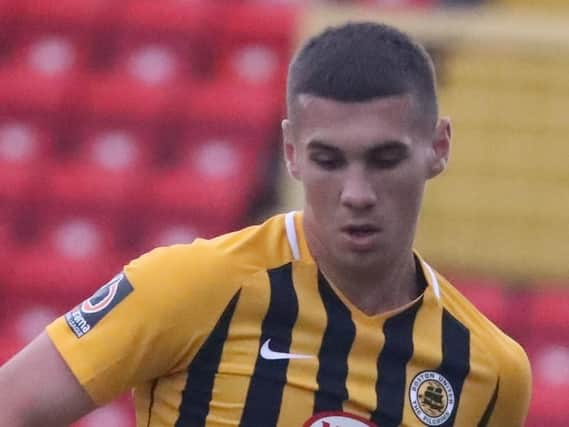 Craig Elliott is backing summer signing Lewis Gibbens to have a career in the Football League
The 20-year-old turned down a short-term deal with former club Mansfield Town to make a permanent move to Boston United ahead of the 2020-21 campaign.
"I'm a massive fan. I have high expectations of him, not only this year, but for his career - I think he will go on to be a Football League player," Elliott said of the left-sided defender who made 10 appearances for Boston on loan from the Stags over the past two seasons, scoring once.
"He needs a bit of luck with injuries but he needs to be playing games and senior football. I've watched him a lot in reserve football and worked with him, he's a fantastic individual and really wants it.
"I think everything's there in front of him and he'll give everything.
"He's a throwback. He listens, he's very receptive and that's what stood out with him on loan. I'll work with players all day long if they're like that."
Gibbens was the Stags' youth team player of the season in 2018 as the helped the youngsters claim the EFL Youth Alliance North East Division title.
Now the youngster - who made his Mansfield Town debut against Macclesfield Town in 2018 - is on board, Elliott hopes to see him flourish on the field.
Despite the departure of left back Alex Whittle, United want Gibbens to battle Scott garner and Luke Shiels for a spot in central defence.
"They (Mansfield) wanted him back and were offering him short-term deals to prove himself," Elliott added.
"It was a really big decision for him to turn down full-time football, but again I think it shows his intent to want to do well for us.
"He likes to defend, wins his headers and he's really filling out, month by month. The left foot gives us that lovely balance and he's great with it, he's got a ping on him.
"I've got big expectations for him this year. He'll be coming into the fold and by no means am I bringing him in to be a squad member.
"I think he's ready and he'll be pushing Shielsy and Garns all the way, no doubt about that."