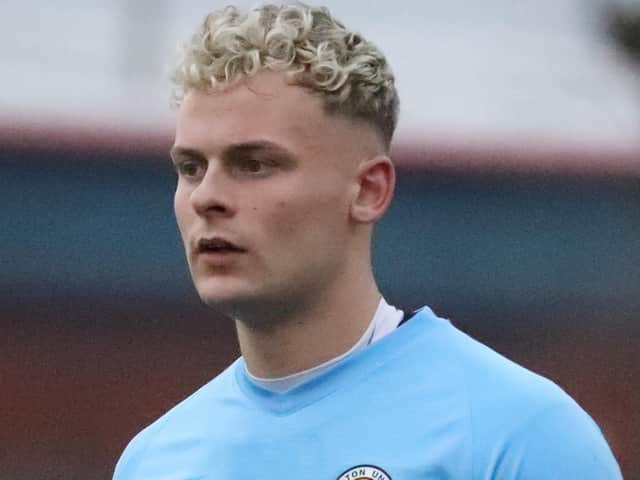 Jake Wright.
Jake Wright has made a career out of being right in the thick of the action, and none more so than during today's play-off semi-final against Gateshead.
The striker put a miserable year behind him as he scored twice and won two penalties as the Pilgrims moved to within one game of promotion to the National League.
Altrincham stand in their way following today's 2-0 win at York City.
But Wright, on loan from the Minstermen wouldn't have been eligible to play in the final, had City won.
"It was a weird situation to be in. I wish my parent club the best, but for myself and own development I wanted to play in that final," he said.
"I believe that we were going to get there and I think it helped me massively that I knew i could play in the final if we made it."
United were awarded two penalties for fouls on Wright in the first half as they came from a goal down to lead courtesy of Jordan Thewlis' spot kicks.
The first was an apparent trip and the second for an off the ball tug.
"They (Gateshead) said it wasn't a penalty and he's pulled out," Wright added.
"He has pulled out but he's caught me. It was the slightest of touches but it put me off balance.
"The second one, I've got goal side, he's had hold of me. That happens three or four times a weekend against me.
"I never get them, however, I got it when we needed it and it was great."
Wright's second-half brace took the game away from Gateshead.
His first goal, scored from by the corner flag, looked to be a cross but the forward disagreed.
"It was definitely a shot, I bang them in every week," he said with a telling smile.
His second came from a breakaway from the halfway line, with teammate Jay Rollins unmarked and begging for a tap-in.
"It did go through my head but I back myself at the end of the day," Wright added.
"I knew I was going to score. A striker needs confidence.
"I have to thank the chairman, the fans and the gaffer. I've had topsy-turvey season, I was out for a few months, a few injuries, but I've come back and hopefully repaid everyone."