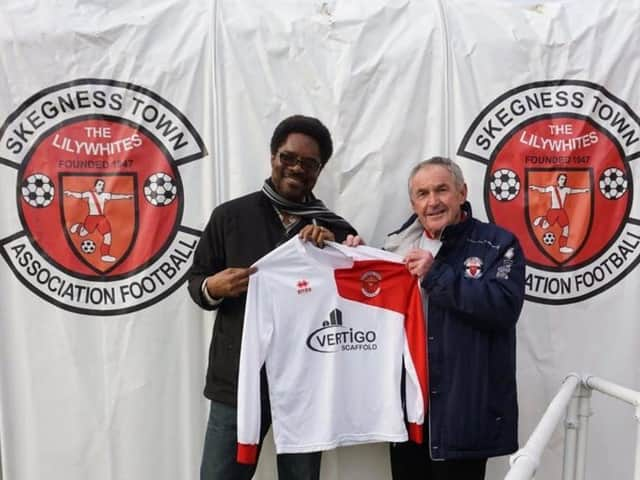 Allan Gray (right).
Skegness Town stalwart Allan Gray is retiring from duties - but he won't be severing ties.
His near-40 year relationship with the club has seen him take on numerous roles, including secretary, treasurer and groundsman.
Allan - who also sat on the Boston and District Saturday League committee - helped set up the club's junior section and has also been involved with management of the youngsters, under 18s and and as assistant for the reserves.
He also played a huge role in the club's relocation from Burgh Road to the Vertigo Stadium, admitting 'I've spent quite a lot more time in solicitors' offices and accountants' offices than I expected'.
But as he approaches his 74th birthday, Allan and wife Judith - who has cleaned the three senior kits on a weekly basis - are reducing their roles.
"I haven't resigned, I've retired," he told The Standard.
"It's not healthy for a club of Skegness' stature to have one person of 74 doing three jobs. If something happens it's a hole to fill. Whereas if it's a gradual process the club will move on and prosper."
But while Allan is retiring, he will still be very much a part of the club, both as a fan and acting as caretaker.
"I had no intentions of getting involved as much as I did," he said.
"But I've had so much fun and enjoyment and just enjoyed being involved - I haven't regretted any of it.
"I'll keep going until I can't go any longer. I'm going to go next year and support the three teams."
Current assistant manager Nick Chapman said: "I can't speak highly enough of Allan or Jud.
"When you hear people talked of as legends it can be used a little too frequently and I know Allan would hate somebody to say something like that. But what a lovely bloke and really nice family.
"When you think of Skeg Town you think of Allan."
Chairman Martin Jackson added: "You name a job in a non league football club, he's done it.
"There have been a lot of changes along the way, but Allan and Jud have always been there to facilitate it all.
"Their reliability, effort, dedication and loyalty to STFC has been ever present and never in doubt."