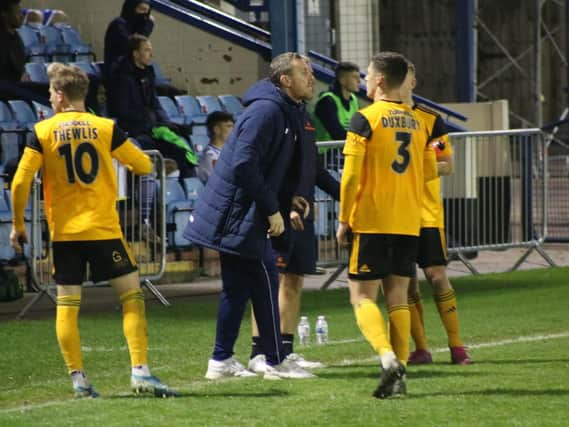 Craig Elliott has told his Boston United squad to 'get their heads down and look forward' to their scheduled fixtures this week - as they could be the Pilgrims' last this season.
National League North rivals Leamington are due to arrive at the Jakemans Community Stadium on Saturday, with York City the visitors on Tuesday.
A number of clubs are refusing to play on until the outcome of the vote to end the season is announced, but the Brakes have indicated they are willing to fulfil this weekend's fixture, while the Minstermen hosted AFC Fylde on Tuesday evening.
"They've said behind the scenes they're coming and we contacted Paul (Holleran, Leamington manager) and I think they're coming," Elliott told The Standard.
"It's one we can plan for and have a bit of normality for a few days, which will be nice."
Clubs were issued their voting slips on February 1 and given 28 days to respond.
If an outcome is decide prior to the deadline then it will be announced early.
But until anything is concrete, it's back to business for Boston.
"I've said to the lads, we all know it's been difficult with the voting but we're getting near to the 28 days and what we can say is that over the next seven to 10 days we've got two games to look forward to as long as there's no decision," Elliott continued.
"I think York want to play and Leamington too. We can just get our heads down and look forward to it.
"They could be our last games too, so we've just got to embrace that and look forward to it."
United's squad held a behind closed doors match on Tuesday evening in preparation for what could be their first match since January 20's FA Trophy defeat to Chesterfield.
And as the players return to training this evening, Elliott expects the positive vibes in the camp continue.
"It's a bit of a mixed bag. Motivation has been thing for people with everything that's going on at the moment, but being able to play again will adad to the excitement," the manager said.
"Tonight at training we'll see that. We can see games in front of us now. The lads were disappointed games have been called off."
Saturday's clash is due tom kick off at 3pm.