Still challenging on four fronts for a trophy quadruple, the White Wolves were left frustrated when, after two games back from a six-week stint without a match, Saturday's Lincolnshire League Supplementary Cup derby with neighbours Tetney was frozen off.
"In the last eight to 10 weeks clubs have probably had six of those off so the league is starting to worry," said boss Carl Martin.
"We are only halfway through the league season – we have 17 games left - and we only have four months left – and that's without any cup games or any more bad weather. We have looked how many Saturdays we have left and it doesn't work out.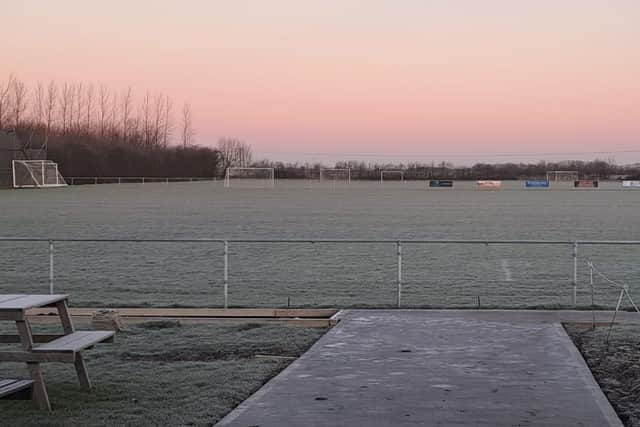 "So I think we will end up playing twice a week until the end of May.
"I think we have two midweek games pencilled in next month but with our Supplementary Cup game being cancelled last Saturday that may need to be slotted in on a Saturday and another league game going into midweek.
"We are still in the Challenge Cup, Supplementary Cup and County Cup."
Saturday's game saw Louth lose a local derby.
"We we due to play Tetney in the league but it was changed to the cup game at last minute as they need to get the cup games all done as they already have a date for the final and are maybe panicking a bit about pulling all the cup games in," said Martin.
"We gave it as late as we could but we called it off about 10.15am. It was no good – it was freezing.
"The overnight forecast had been worse than we thought at minus three. We got there at 8am and we knew by then it would be off.
"Since the start of December it has been frustrating. We didn't play at all in December, then we had two games back, then it's another week off.
"It doesn't help us as the lads had just got back into a bit of shape and a bit of form getting back to playing then bosh it's cancelled again. But it can't be helped with the weather as it is. I think there was only one league game played."
Louth will hope to resume action on Saturday away to Moulton Harrox in the County Cup quarter-finals.
"Over the last 10 years or so they have always been a very good outfit and they got to the final of the County Cup last season against Wyberton. So we know they are a quality side with some good players.
"We are away and it is an hour and a half drive so we know it will be a tough afternoon. Any game in the quarter-finals you get down to the teams where they have quality so it will be a tough gig.
"We so have two or three knocks where lads are just coming back and needing to get up to speed.
"But we should have a fully fit squad to choose from on Saturday which is great news. We can only choose 16 and we will probably have 22 available. It's a good place to be in at the minute."