Louth Town go on seven goal rampage against Ollerton Town
Promoted Louth Town hit the heights on Saturday as they demolished bottom club Ollerton Town 7-1 for a third straight win at Northern Counties East Division One level.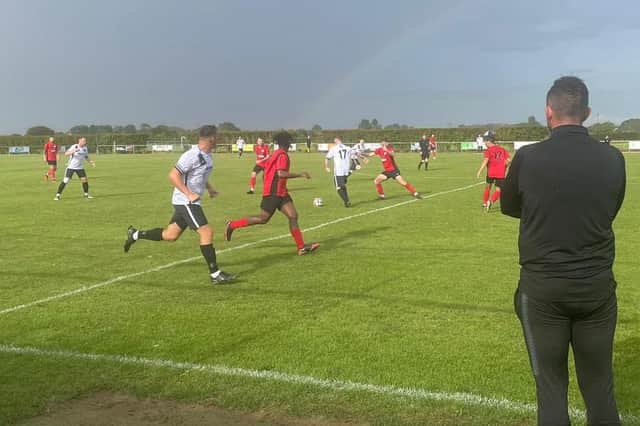 Bailey Wright led the way with four goals as they recovered from Adam Morrison's seventh minute opener for Ollerton in style.
"I was really pleased with Saturday," said manager Carl Martin.
"We went a goal down early on which wasn't the start we had in mind. So fair play to the lads. We dominated from start to finish and had chance after chance but just couldn't put it in.
"But we got a goal just before half-time and then the floodgates open. I thought 7-1 flattered them I thought it should have been at least 10."
On Wright's goalscoring exploits, he said: "We took him off with 10 minutes to go. "He got us the winner last week and four on Saturday. He is a special talent and a really great lad – very grounded.
"He can play – he is a very good footballer. In the form he is in at the moment we're lucky to have him.
"These results will give us confidence at this new level. There were only three league games on Saturday due to FA Vase ties so this win propelled us up to sixth in the table.
"It's our first hurrah at the NCEL. I know we got off to a loss but we're unbeaten in August and on Saturday we looked full of confidence and now need to keep this unbeaten run going."
Wright levelled the game on 42 minutes and put them ahead on 47 minutes.
Mitchell Taylor added a third three minutes later before Wright completed an 11-minute hat-trick from the spot.
Harris Dunn made it 5-1 on 69 minutes and Wright bagged a fourth on 73 minutes.
Louth then had Bradley Coulam sent off with 10 minutes to go but Jordan Smith still hit a seventh for the White Wolves with six minutes to go.
On Saturday they are away to Glasshoughton Welfare, who have only had one win in their first six games. And Martin admitted: "We don't know a lot about them.
"It's hard at this level as the changeover in players during the summer is huge. You get to the end of September and you know what teams and players to look out for.
"So, like a lot of sides at this level, we are going a bit into the unknown on Saturday."
He said Louth still need more players in to strengthen.
"Recruitment is still quite hard at the minute while teams are settling down," said Martin.
"People are trying to put together squads of 16-20 players.
"Cleethorpes Town helped us out last weekend with a keeper on loan – Ollie Brackenbury. They did us a favour and he had a really good game so I would like to thank them for all their help.
"But we lost Bradley with a red card on Saturday, so that is another player missing for three games. He left his foot in high from a corner and in this day and age I don't think we can have any complaints about it. And we still have an issue with lack of defenders with injuries at centre half.
"This month we also have some of the lads going away on holiday. The squad is going to be stretched. So we do need another two or three bodies in, either permanent or on loan. We will see which avenue we go down."