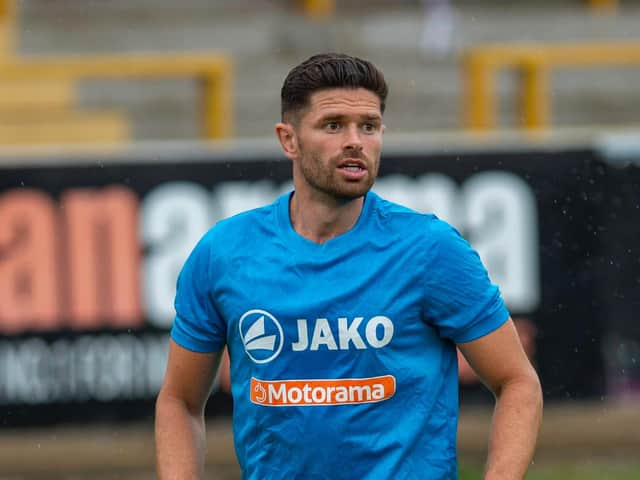 Scott Garner. Photo: @russelldossett (www.sportspictures.online)
Boston United must want it more than Altrincham if they are to win Saturday's play-off final, according to Scott Garner.
The influential defender played in two National League North semi-final defeats with the Pilgrims before tasting success with FC Halifaxt Town, scoring the winner in extra-time against Chorley in 2017.
As he looks for a repeat with the Pilgrims in Saturday's contest against Altrincham, he believes the team that fights hardest will be celebrating promotion.
"I like to think I turn up for these big games, the adrenaline and buzz drives you on," said Garner, who also found the net in 2015's 2-2 draw with Chorley, which saw United beaten on penalties.
"In extra-time with Halifax, people were getting tired but I was just thinking 'keep pushing, keep pushing, make the other team fold before you'.
"They crumbled in the end. We kept working and overpowered them to get over the line. Play-off games become a battle and a fight and we have to find a way to win."
Following 2016's 3-2 aggregate defeat at North Ferriby, Dennis Greene's exciting squad was dismantled, with Zak Mills, Dayle Southwell and Kaine Felix moving to higher-level clubs, Garner stepping sideways to win promotion with Halifax and Carl Piergianni taking a year out to travel before returning to England to help Salford City progress from the National League North to League Two.
But while that squad's lifespan came to its natural end, Garner believes this current crop of Pilgrims - which has Jordan Thewlis, Tom Platt, Peter Crook, Luke Shiels and Garner under contract next season and other deals with existing squad members agreed - still have plenty of growing together.
"The one before, we had such a good group there was interest from everywhere for players," Garner added.
"You knew that group was coming to an end. Whether this group gets promoted or it doesn't, it won't disintegrate.
"There's a good quality group of players growing together. Lets hope we get over the line this year and give it a great go in the new stadium in the National League.
"If we don't get over the line, the group will be up there next season. Either way it's going to be exciting."