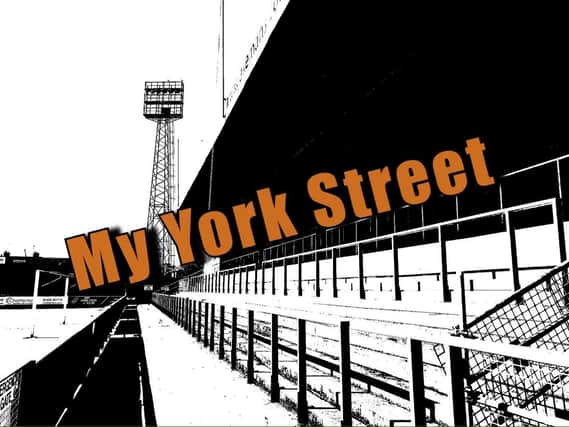 My first game: The FA Trophy semi-final second leg at home to Altrincham. In the middle of revising for my exams I was dragged along by my brother in law. A total rollercoaster of a game and then Bob Lee with his amazing winner in the dying minutes. Hooked from that moment.
My favourite game: Last home game of the 2001-02 Conferencewinning season, a 4-0 win over Farnborough. The atmosphere in the Town End was electric and the crowd were the 12th man that day.
My least favourite game: At home to Welling United in the 1988-89 FA Trophy replay. Had been to the away game and it rained and rained and rained and we witnessed a 0-0 draw. Back to York Street and we lost 1-0. They scored direct from a corner.
My strangest game: Sorry, but I forget the opposition. I think it may have been Kettering on New Year's Day when Bazza let in two goals direct from corners.
My happiest memory: The sight of the Dr Marten's Trophy. Biggest shield in the world and made the players look tiny. Still makes me smile today just thinking about how ridiculously large that trophy was.
Worst memory: Losing to Canvey Island in the FA Cup.
My favourite goal: Anthony Elding's piledriver at the York Street end against Farnborough, just for his celebration. He must have jumped 12 feet and spun in the air. A Boston boy scoring a super goal in last home game of that glorious season.
My favourite player: Has to be Paul Bastock. Bazza is Mr Boston United. The massive lump on the side of head when he dived into the post against Torquay shows his total commitment.
My favorite manager: Neil Thompson. Impossible task taking us into the Football League after all that happened in the close season. Did an amazing job and had a proper go that first season. Proved Boston United belonged.
Best opposition player: Phil Masinga if Leeds United. Pre-season friendly and first time I had seen him play. what a performance. Beat us on his own.
Best away team: That Leeds United pre-season friendly side. Masinga (3), Noel Whelan (3), Jamie Forrester, Mark Ford - United lost 8-2,
I will miss York Street because: There is no better experience than walking up to the ground for a midweek night game. You could hear the PA system (still playing 70s classics) from the market place and see the floodlights from the other side of town. And the smell of Eagles fish and chips. Makes me tingle.
Previous My York Street contributions: Andy Butler, Roger Smith, Christian James, Ken Fox, Jonathan Van Tam, Richard O. Smith, Pete Brooksbank, Josh Butler, Adam Upsall, Mick Spillane.If you'd like to take part in My York Street, email [email protected]