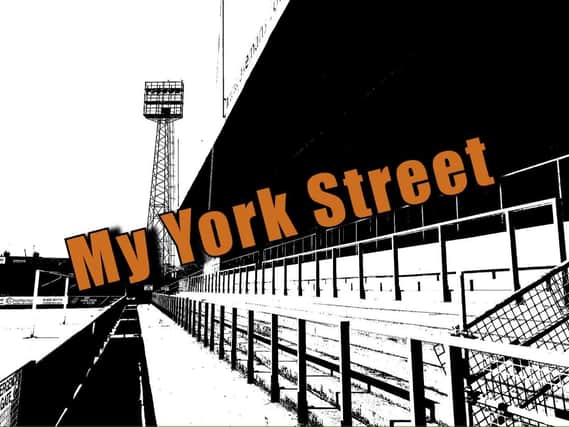 My first game: My first visit to York Street was a 3-1 defeat to Barrow in the Gola League (Conference) in the autumn of 1984. I stood behind the York Street goal and remember being surprised when I involuntarily jumped up and celebrated Chris Cook's equaliser.. I think that was the moment when I knew I was a fan. I'd like to give a special shout-out here to school friend Jeremy Hunt who took me to the game after we played for our school team together in Horncastle in the morning.
My favourite game: This is a tough one, but I'd probably go all the way back to April 1985 and the FA Trophy semi-final against Altrincham. York Street was absolutely heaving that day; the official crowd was just over 4,000 but there must have been close to double that in the ground. This was the perfect combination of a high-stakes game, a massive crowd, a thrilling match and the perfect outcome (a 3-2 win for Boston). By the way, if anyone has footage of that game, it would be great to see it again; I used to have a VHS recording of the Boston goals from Calendar, but that got mislaid at some point.
My least favourite game: Fortunately, the bad games (of which of course there have been plenty) tend to get erased from the memory quite quickly)).
My strangest game: In a way, the most surreal game was the first one in the Football League, the 2-2 draw against Bournemouth in August 2002. It just seemed hard to believe we'd actually made it, and that we were even capable of holding our own against a good team. Amazing to think what Bournemouth (and Hull and Swansea) have achieved since we played them in League Two.
My happiest memory: Well, there have been many, but having the kids as mascots twice was fantastic, against Corby Town on Boxing Day 2012 and Gloucester City on Easter Monday 2017. It was great to see them out on the York Street pitch, having a kick-around in Boston shirts.
My worst memory: Probably my biggest York Street disappointment was a game I didn't even get to see, a 0-1 defeat against Welling United in an FA Trophy third round replay in 1989. I'd been to the first game at their place on the Saturday, a 0-0 draw in the rain with precious few chances (but plenty of singing) and it seemed a path was opening up for a Wembley return. And then all hopes were dashed away with that cold shower of a home defeat.
My favourite goal: Must be the Bob Lee goal that sent us to Wembley.
My favourite player: It's quite hard to pick one out actually, we've had so many good players over the years, in all positions. But going back to the 1980s again, I think all fans of that era have a soft spot for goalkeeper John McKenna, who was not just a great stopper, but was always ready to have a chat and a joke with the fans as well (including during games). Probably the most accomplished player I've seen in a Boston shirt was Andy Kirk, who led the line for most of the 2004-05 season in League Two, and went on to make appearances for Northern Ireland.
My favourite manager: I think we've done very well with the long-term managers we've had under the current owners (Rob Hurst and Paul Scott, Dennis Greene and Craig Elliott) and going back to 1985 I can't help but have a soft spot for Arthur Mann for the trip to Wembley. In between, things were mixed to say the least, but even some of our more maligned managers delivered some great moments (Steve Evans with the two promotions, George Kerr with the side that played some excellent football on the way to third place in 1988-89).
Best opposition player and away side: Tricky ones these, as I tend to have a much better memory for Boston players and teams. But I remember Steve Butler being frighteningly good for Maidstone when they won the Conference in 1988-89, and that was a very good side he played in It's not surprising that Butler went on to have such a successful career in the Football League.
I'll miss York Street because: The rituals of a Saturday afternoon have just been a pleasure in and of themselves – the walk from the town centre to the stadium, the friendly welcome at the ground, the familiar sights and sounds of York Street, which has not changed so much since I started supporting the club. The last 35 years have been special and I hope with time we can make the new stadium feel as much like home.