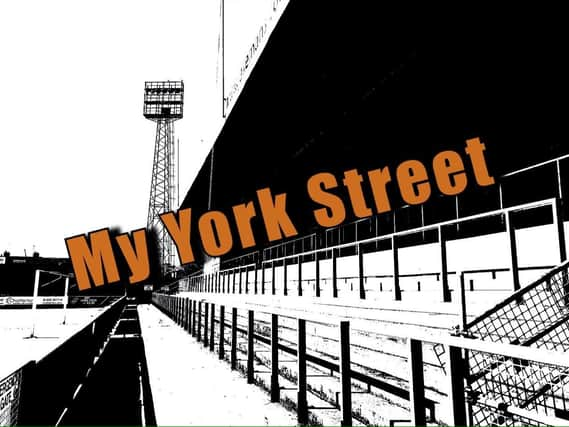 My first game: January 18, 1992. I remembered it for years as only as a match that we 'lost heavily at home to team in blue', but eventually I found Ken Fox's amazing website, and was able to look it up. We lost 5-1 at home to Macclesfield Town. A great start!
My favourite game: Bournemouth at home in the first Football League game, closely followed by the victory against Lincoln City. We'd made it.
My least favourite game: BUFC 0 Grimsby Town 6. We then knew how bad we were, and how much trouble we'd got ourselves into.
My strangest game: BUFC 10 Durham City 0, It was literally men against boys. It was weird that everytime we attacked, we had a good chance on goal - their keeper was incredible. Oh, and then Jamie Yates got himself sent off at the end!
My happiest memory: The club being saved from the brink of extinction in 2007, after relegation from the Football League, being entered into a CVA that seemed impossible to fulfill. The catalyst was the Fathers Day meeting of June 2007 at York Street.
My worst memory: Chorley at home, play offs. Don't really need to go into it.
My favourite goal: Technically perfect was Kaine Felix's volley at home to Nuneaton, from the edge of the area - it flew in. However, for sentimentality, probably the two goals against Lincoln City in the first Football League season - Simon Weatherstone with a wonderful goal from the corner of the box, and then Daryl Clare's tap-in clincher in front of 2,000 Imps.
My favourite player: Paul Bastock. Bazza is a BUFC legend, used to clean our windows, and my little bro went to school with his son Callum. Oh, and my uncle Neil used to sponsor his warm-up kit. Always says 'hello', is very friendly on social media - even though he has ventured over the border into Norfolk for his employment!
My favourite manager: Craig Elliott. He's brought the good times back, and we can trust him to make us very competitive - he knows the kind of players he wants, and seems to bring in players that already know each other. Other managers have brought in loads of players, but while Craig likes a loan signing on a Friday, there's a track record of success.
Best opposition player: Duncan Watmore was incredible as a 16 or 17 year old for Altrincham in one half of football, but overall it's the guy who scored a hat-trick for Chorley in a cup replay - Nick Haughton. He was on loan from Fleetwood, and just oozed class that night. How is he only at relegated AFC Fylde?
Best away side:Cardiff City in the League Cup smashed us 5-1, with Robert Earnshaw scoring a hat-trick. But in league games it's probably the Carlisle United team of 2005-06. Beat us 5-0 at York Street, with future PIlgrim Karl Hawley and ex-Premier League striker Michael Bridges in attack, they were awesome.
I'll miss York Street because: It's only a few minutes down the road! I would often wait until 2.45pm before leaving my house, and I'm in the ground before the teams run-out. It's just an amazing stadium - better than a lot of ground in the league above, and a few in the Football League as well. However, other stadiums are getting facelifts, and it's 40 years since York Street had one. It's time to move on, and into facilities that League Two clubs will envy.
Scott Walden is currently raising money for the club via his Pilgrim Pixels website.Previous My York Street contributions: Andy Butler, Roger Smith, Christian James, Ken Fox, Jonathan Van Tam, Richard O. Smith, Pete Brooksbank, Josh Butler, Adam Upsall, Mick Spillane. Chris Clawson, James Watson, Luke Clark.