OPINION: Getting the best out of England's attacking options will be Gareth Southgate's toughest task
The Three Lions boss needs to nail down the right system, argues Liam Kent...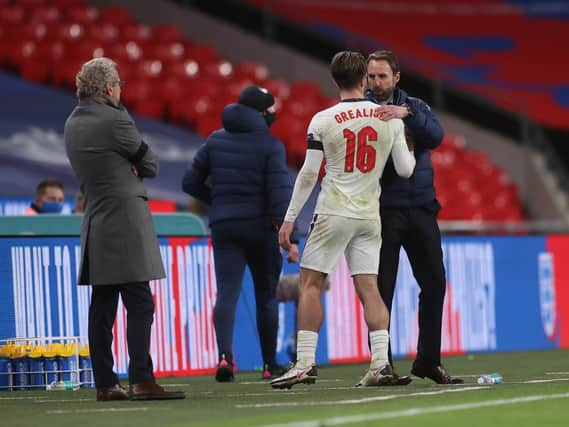 It has been some journey for Gareth Southgate. Since being the penalty shoot out villain at Euro 96, he has worked his way up to England national team manager and became a waistcoat-wearing hero in 2018, when he guided the country to the World Cup semi-final.
Now however, his standing is starting to erode a little.
Since that glorious summer, it's been somewhat stop-start for England who, despite easily qualifying for Euro 2020, maybe haven't kicked on as much as people would have expected at the time.
One of Southgate's biggest issues currently appears to be his inability to nail down a system that suits the players at his disposal. England are so strong in the attacking areas, and they have so many players in form, Southgate is struggling to fit everyone in.
A temptation would be to just go for it. England are clearly stronger in attack than defence so some might decide to just try and go out with a freedom to outscore every opponent.
That would be too naïve however and Southgate will be looking for a system that provides the best balance.
Having played a 3-5-2 at the World Cup, England have now moved to a 3-4-3 after a spell in a 4-3-3.
The current formation has it's strengths and allows Southgate to adapt his attacking line up as he sees fit.
In the recent friendly against Ireland, England went with more natural wingers, Jadon Sancho and Jack Grealish. With Raheem Sterling and Marcus Rashford also available, this would allow England to be more direct and attack with pace.
Against Belgium and Iceland however, Southgate tweaked it and used Grealish, Mason Mount and Phil Foden as creative midfielders behind the striker. This was not only to match up Belgium but it also allowed England to get more bodies in the middle to keep possession and rely on the overlapping wing backs for width.
On top of that, in Harry Kane, England have one the most complete centre forward in world football who should be the first name on the team sheet and the man who Gareth Southgate should build any system around.
With attacking strength in depth greater than the supposed Golden Generation, it could be an exciting few years coming up for England.
Gareth Southgate can't rely on the memories of the World Cup for much longer. The next litmus test of his leadership will be the Euro's next summer.
Getting the best of out of England's attacking talents will be a crucial challenge.