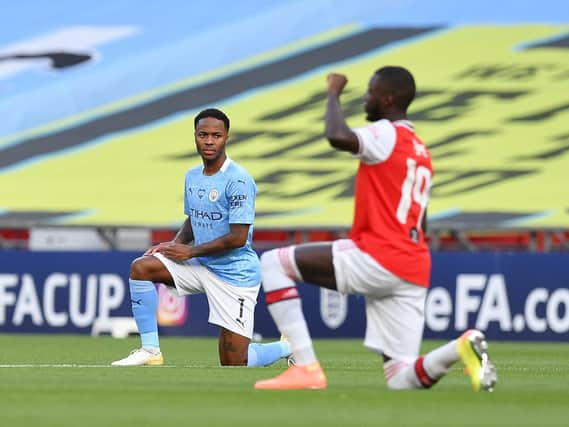 The FA was plunged into disarray last week when it's now ex-chairman, Greg Clarke, was forced to resign over comments made to the Department of Culture, Media & Sport.
Clarke was there to discuss the abuse of players on social media but ended up drawing criticism for comments that included referring to BAME footballers as 'coloured people'.
Now I'm sure Greg Clarke is a nice enough man and his comments stink of ignorance rather than any discriminatory views on his part.
However, this sorry affair does nothing to change the belief that the suits running our national game are not only out of touch with the game they are governing, but also the society who their governance also impacts greatly.
When the Black Lives Matter movement and 'Taking the Knee' is something which this country's professional players universally got behind and stood for, having the chairman of the FA show such ignorance is unacceptable and left Clarke with no choice but to resign.
We wait to see who the FA choose are Clarke's replacement but pressure is mounting for them to choose a 'football person' rather than another former businessman.
Of course the FA needs those experts to run the organisation but this has shown why careful consideration needs to be taken when choosing who represents our game.
When you contrast Clarke to Marcus Rashford, it is clear who the FA should be wanting to build their image around moving forward. Rashford has bravely fought for his beliefs despite efforts by MPs to belittle him and put an end to his campaign.
He was not only earned an MBE but also captured the hearts of the country, providing an inspiration to many.
Of course what Rashford has achieved is exceptional but he is just one of a number of young English players to stand up for what they believe in.
Raheem Sterling has been actively speaking up against racism in the game and even broke boundaries by appearing on Newsnight.
Tyrone Mings is another who has spoken up on matters close to his heart as well as the likes of Jordan Henderson and Harry Kane.
With such an inspirational group of young players coming through, it is perhaps time that the FA appoint someone to lead the organisation who not only represents their views but who is able to fully utilise them moving forward.