PILGRIMS IN PROFILE: Albert Jarrett
Christian James remembers a Boston United player who made an impact on his childhood...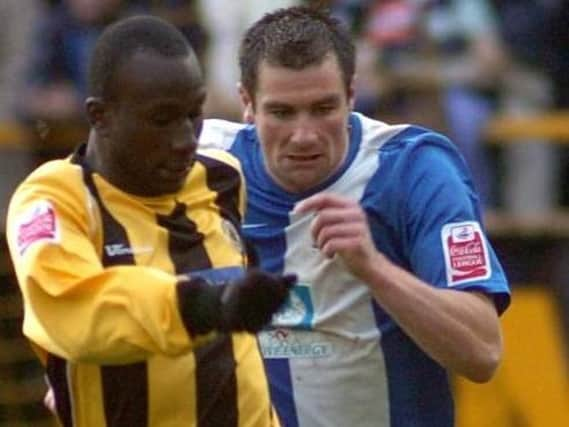 In February 2007, on the morning of a home game against Shrewsbury Town, Boston completed the loan signing of a 22-year-old winger from Watford: Albert Jarrett.
Jarrett had begun his senior career at Dulwich Hamlet after spending his school years with Arsenal, before being scouted Wimbledon in 2002.
A handful of first team appearances in the First Division the following season (Dons' last before the controversial name change) weren't enough to earn him a contract extension, and he joined Brighton & Hove Albion.
The 2004-5 and 2005-6 seasons saw Jarrett represent the Seagulls in the Championship. Having not won in 10 at Wimbledon his first Brighton victory took another nine games to arrive, before two loan spells to Conference Stevenage and League One Swindon interrupted his spell on the South coast.
Despite this stop-start record, Jarrett made the biggest move of his career in the summer of 2006.
Premier League Watford were impressed after taking Jarrett on trial in pre-season.
A Carling Cup appearance preceded his only Premier League outing for the Hornets, off the bench in a 1-0 defeat at Bolton Wanderers.
The hosts had a league debutant that day as well: Nicolas Anelka.
By February of that season he was sent to Boston on loan- the Pilgrims 21st in League Two at the time.
Earlier in the season he had rejected an international call-up for Sierra Leone in aid of his club career.
Jarrett was the Pilgrims' 37th player of the season, making five appearances (all starts) in his month with the club.
His debut against Shrewsbury ended in a 3-0 defeat, before travelling to Peterborough for a 1-1 draw.
Single-goal defeats to Hartlepool and MK Dons followed before Jarrett scored both goals in his final game in amber and black, a 2-1 win over Bristol Rovers.
That game against the Gas was won in nine minutes, Jarrett scored a penalty during the third minute then curled home a second from 20 yards in the ninth.
It was that brace against Bristol which etched him into my mind.
I was six at the time and he was the quickest winger I'd ever seen.
Tearing into the box from the left side, he'd managed to secure the three points by 3.10pm.
Sadly, I never saw Jarrett play again. His loan deal, due to be extended to the end of the season, fell by the way side after Jarrett went walkabout.
He later agreed to join MK Dons until summer 2007.
The relegated Hornets released him at the end of the season and a knee injury wrote him out of the following campaign.
He returned to League Two for the 2008-09 season with Gillingham, before missing just one league game whilst at Barnet the following campaign.
He turned out for Lincoln City and Aldershot (both in League Two) the year after, then dropped into Non-League with Lewes, Bromley, Sutton United.
Jarrett eventually accepted an invitation to represent his country, collecting six caps.
His career seems to have ended where it began, at Dulwich Hamlet.
I've not found any trace of him playing since March 2016 when he left Champion Hill.
During that final season he had missed three months after breaking his jaw in three places after slipping over in the tunnel pre-match.