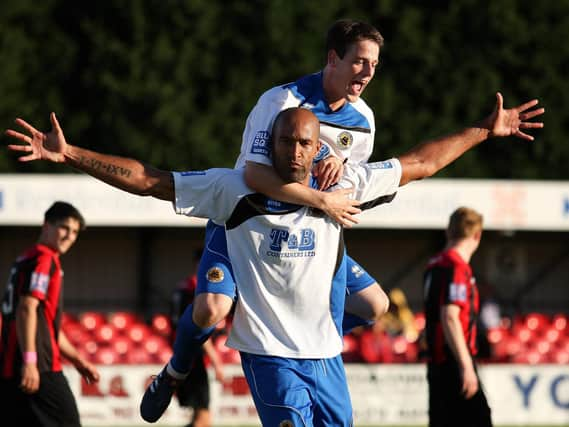 This week's Pilgrim in Profile made almost 100 appearances for the club across three spells, the final one his only managerial post to date.
Alongside Lee Canoville, then standing alone, the forward guided the Pilgrims through one whole and two part-campaigns, taking over the 2010-11 season that ended in play-off penalty heartbreak and leaving midway through 2012-13.
These days he works for the PFA as their equalities executive - the 17th Pilgrim in Profile is Jason Lee.
In a career which began with a move from Charlton Athletic to Lincoln City, Lee then spent time at Southend United before moving to Nottingham Forest in 1994 for a £200,00 fee.
He scored against Spurs and at Newcastle United in his debut season but struggled to find regular Premier League starts until the sale of Stan Collymore to Liverpool freed up a shirt.
Eight goals through 1995-96, including a home brace against Manchester City, weren't enough to secure Lee's long term Forest future and Watford's offer (which matched the fee paid for Lee by the Premier League club two years previously) was enough to see him leave the City Ground a year late after loan spells at Charlton and Grimsby Town.
Ten goals during Watford's 1997-98 Second Division championship win were undermined by a claims Lee refused to move his family down from Nottingham. Hornets' boss Graham Taylor eventually sold him to Chesterfield.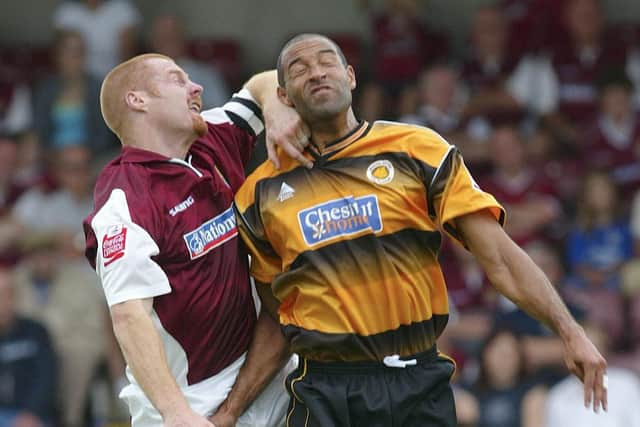 Lee then turned out in the blue shirts of Peterborough and Falkirk before signing for Steve Evans' Boston in 2004.
Lee was handed the number nine shirt on arrival as the Pilgrims' Summer of Gazza saw them introduce the likes of Lee, Andy Kirk and Austin McCann - all having played football in Evans' native Scotland in the season(s) prior to their Boston transfer.
Fellow 19902 Premier League forward Julian Joachim soon followed.
Lee would play 44 games in his debut campaign, 37 from the start, scoring four in four through early September having opened his account with a home equaliser against Macclesfield.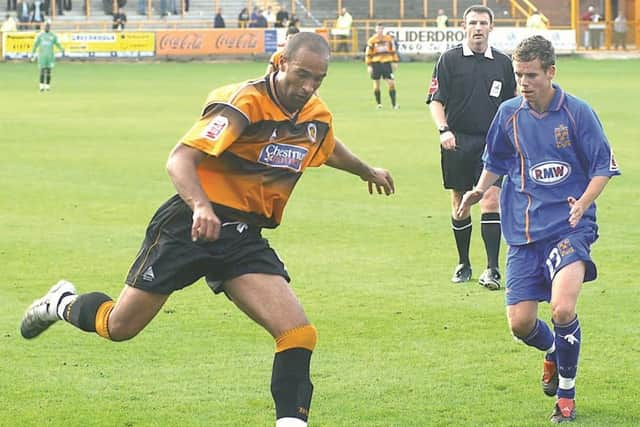 Lee had scored at both ends in the second of that four game run - the memorable 4-3 League Cup win over Luton, registering for both sides in a five minute stretch which saw him draw Luton level then restore the Pilgrims' lead.
The forward spent time out of the side with just one start in nine through Christmas and the New Year, although he found the net at Swansea off the bench to reach eight for the campaign having also struck at against Bristol Rovers and in an FA Cup tie at Hereford through the Autumn of 2004.
Lee regained his place for seven straight starts in January and February, the first of which saw him put Boston ahead at Scunthorpe in a game which ended 1-1.
He ended the season with 12 goals to his name after a York Street brace against Cheltenham and a strike in the next home game (against Kidderminster) as his tally received a welcome April boost.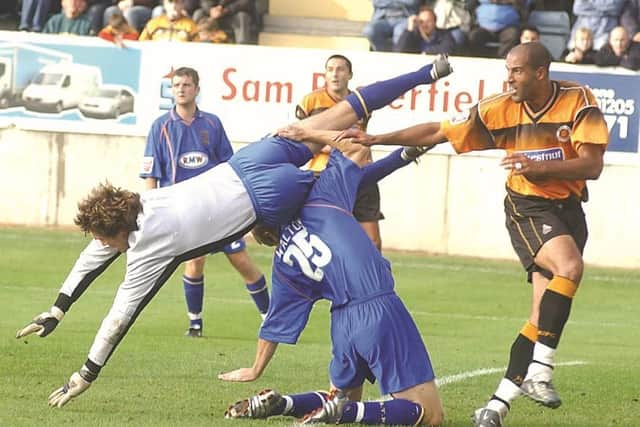 Lee's season would end early as a red card for violent conduct against the Harriers saw him handed a three-game ban which spread into the new campaign.
The number nine marked his first game of the 2005-06 season with a late equaliser against Shrewsbury, although the wait for a second that season wouldn't end until Swindon visited for an FA Cup replay in November.
With future England keeper Tom Heaton sent off after just 18 minutes Swindon found themselves four down by half-time, the final courtesy of Jason Lee.
Like London buses, the wait for one saw two arrive in quick succession and just three days later Lee was bagging another in front of a delighted home crowd against future employers Notts County.
Those two goals arrived in Lee's first starts after nine games on the bench, although he would make only two more before leaving for Northampton on a free in early 2006. Re-united with Andy Kirk, 34-year-old Lee earned promotion with the Cobblers out of League Two but was released at the end of the season.
Time at Aldershot came and went fairly swiftly and by the start of 2006-07 Lee joined a host of past Pilgrims at league rivals Notts County.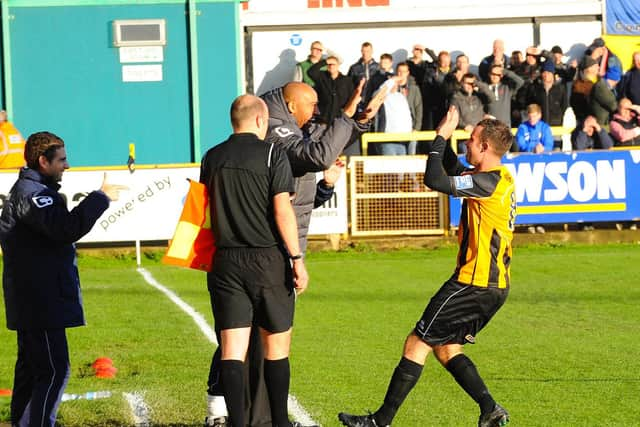 He scored three against the Pilgrims as United were relegated that season, two in a 3-3 November draw in Lincolnshire and the opening goal when the Magpies took a 2-0 win in April.
Captain Lee left Notts County in 2008 and played for three sides throughout 2009: Mansfield, Kettering and Corby. He then joined Ilkeston Town before Rob Scott and Paul Hurst offered him a Boston return in 2010.
Lee's return lasted just three games (during the club's remarkable run of clean sheets - a Northern Premier League record 10) as the death of his mother saw him decide to retire from the game in November.
In March 2011, Arnold Town persuaded Lee to return to football and he played twice, sent off in the latter.
By March the Pilgrims were second in the Conference North, but Hurst and Scott left for Grimsby Town.
Lee's return to the club came soon after the managerial departure was confirmed, taking over dugout duties alongside Football League teammate Lee Canoville for the final seven league games.
Re-registering himself as a player, Lee's tenure got off to a losing start at Solihull, but the return of goalkeeper Paul Bastock, United's all-time appearance record holder, and the extension of Kevin Austin's loan from Darlington saw a team including some experienced pros take on the play-off push.
United finished third and lost to Guiseley lost on penaltie s- Lee's only league minutes on the pitch had come off the bench of the final game against Vauxhall Motors and the first leg at Guiseley.
He'd started himself at centre-back in a miss-match XI to take on Stamford in a home Lincolnshire Cup final, and the self-selected number five scored his penalty in the first of two shoot-outs lost that season.
With United losing key players that summer, 2011-12 saw a weakened squad fail to reach a play-off position once again, Lee still alongside Canoville in the hotseat.
Lee played 20 of 21 games in the first half of the season, scoring seven, including goals in four consecutive games against Altrincham, Histon, Workington and Colwyn Bay during October.
The latter of those games had seen Lee remarkably evade a red card for elbowing the visiting centre-half, getting permission from a confused linesman to substitute himself off while the physio came on. Having let the change take place, referee Glen Hart saw to the injured man before turning around confused as to Lee's whereabouts, the big man wearing his coat and stood in the technical area watching on.
A goal at the Northolme and another on Boxing Day against Francis Green's Eastwood Town saw Lee close his Pilgrims account with 22 goals registered - the forward playing just three more games off the bench after he and Canoville brought Spencer Weir-Daley back to the club in January 2012.
The following season Lee took sole charge. But the campaign never gained momentum as a United side capable of condemning Chester to their only defeat in the first seven months of the season also lost to basement boys Hinckley United and at Skelmersdale in an FA Trophy replay.
Eleven wins in 26 wasn't enough and, with United sat 10th following a defeat at Gloucester City, Lee departed.
The 2012-13 season would get worse before it got better and, after a poor 13-game stint under Graham Drury, Dennis Greene (who'd lost 6-0 to Lee's side in August 2012 with Histon) took charge. He would, of course, guide United to two play-off campaigns in the coming years.
Lee took on the role of equalities education executive at the PFA in 2013 and recently spoke out about the running 'pineapple' joke Fantasy Footbal League hosts David Baddiel and Frank Skinner made at the expense of his then-dreadlocked hairstyle.
In an Independent article he called Baddiel's decision to black up 'part of a very bad racist tradition'.
"You see Zaha playing today and others with similar hairstyles, it couldn't happen today, and blackface as well, you wouldn't be able to blackface now, that's crazy" he added.
While the pineapple jibes followed Lee throughout his career, United fans can look back on the year's when he delivered 22 goals across 98 appearances, with one red card in the mix.
His 33 months in joint, then sole, charge saw Lee's Boston career span five seasons, starting in 2004 and ending in 2012.
His tally of twelve goals in 2004-05 makes him one of only four players to reach double figures in a Football League season for United (alongside Andy Kirk's 20 the same season, Julian Joachim's 16 a year later and Richard Logan's 10 in 2002-03).