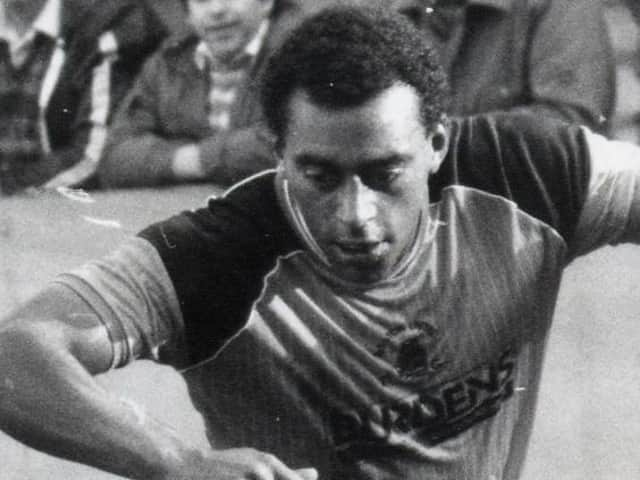 Boston United's history is enriched with a fine selection of legendary goalscorers: Bungay, Notley, Stone, Hukin, Froggatt, Lumby, Cook… the list goes on. But only one man has finished as the club's top goalscorer in five seasons - Jim Kabia.
Signed in October 1974 from Chesterfield for a 'four-figure fee', 20-year-old Kabia scored two on his debut at home to South Liverpool in a 2-2 draw.
By the time the month was out Jim had scored three braces at home, bagging seven goals in his first five games.
Five goals in five over the New Year propped up Kabia's goals tally and by the time United had finished the season in a disappointing 12th (on the back of consecutive titles), he was top goalscorer with 16.
The 1975-76 season was Kabia's best in front of goal. A start of a goal every three games saw him through to mid-October before two goals in three days at home to Buxton and Scarborough kick-started his season.
He went on to register seven in seven boosted his record to 13 for the season by November and he'd reached 20 by February.
The back end of the campaign saw Kabia's finest form. He scored a hat-trick in a 4-1 win over Altrincham the last day of February, before adding another two against Alty in the reverse fixture two weeks later (which finished 4-3 to United).
Three in seven buoyed his form before another hat-trick against Macclesfield in a 6-0 home win on a Monday night in April, three days later another home game against Mossley saw Kabia add another two in a 4-0 victory.
The season ended with two more goals - including one in the Mather Cup against Lincoln - which saw him reach 35 for the season: United's top goalscorer by a mile.
A third Northern Premier League title of the seventies came Boston's way in 1976/77 but Kabia's record took a dip by his own high standards.
Fourteen goals were spread across the season and by the time United had sealed top spot Kabia was away in America.
Yes, you read that right. America.
Persuaded by player-coach and ex-Liverpool defender Ron Yeats, Kabia agreed to play for Santa Barbara Condors in their inaugural season in America's second division.
As such he missed out on the last two games of Boston's season, but after the Condors' squad went on strike over unpaid wages in July the club folded mid-season after just 12 games.
"When I arrived the club had played two games and the boys were telling me no wages were being paid," Kabia explained in an interview a couple years ago.
"I played maybe six to eight games and I do believe I had three or four goals in that time."
With his time in California cut short, Kabia was back in Lincolnshire for the start of the 1976-77 season and returned to the top of the club's goalscoring charts with 27.
Once again he start the season slowly before an upturn of form in November - 22 goals in 21 weeks made him the main-man in front of goal as the Pilgrims won another Northern Premier League, their fourth in six seasons.
Kabia hit a fourth hat-trick of his United career in a 6-0 demolition of Workington (a Football League side a year earlier) a week after helping United to a league cup final with goals in both legs of a 5-1 aggregate win over Wigan Athletic.
United lost the cup final 3-0 to Matlock Town at Maine Road, but it was events off the field that shook the side.
Football League inspectors failed York Street and, as such, United, despite four titles in six seasons, could not apply for promotion.
Instead, second place Wigan - who Boston had lead by six points and beat in both legs of the league cup semi-final - got the nod and were duly elected in place of Southport.
The Pilgrims' board vowed to never let this happen again and with the backing of the local population enough funds were raised in the long run to redevelop York Street's facilities to their current level, with three sides of the ground rebuilt to make the ground one of if not the best in Non-League by the mid-eighties.
Unfortunately, with the club's impetus on off-field matters the club's onfield seventies heyday was soon over.
Kabia was the club's main marksman for a third year on the bounce in 1978-79 with 21 goals including a fifth hat-trick, this time against Worcester City.
United finished sixth in the league but enjoyed cup success, winning the Lincolnshire knock-out competition with a 2-0 victory over Football League Lincoln City in the final, and a run to the First Round of the FA Cup where they lost to Tranmere Rovers.
Christened the Alliance Premier League at the time, the Conference was formed in 1979 and the Pilgrims participated in its inaugural season.
Kabia scored ten goals from September to January but failed to add to them in the remainder of the season as his place in the team was often troubled by the likes of Phil Hubbard and Jon Froggatt.
The following season (1980-81) would be the last of Kabia's first spell with Boston.
Just like the season prior, he completed his goalscoring by mid-January although his tally of 14 would eventually be enough to make him the side's leading goalscorer once again.
United reached the first round of the FA Cup once again, losing 4-0 at home to Rotherham, and finished eighth in the league.
After 310 appearances and 137 goals, Kabia (only 26 at the time) left the club before the start of the 1981-82 season, joining Conference rivals Stafford Rangers.
After spending time with Burton Albion, King's Lynn and Kettering through the eighties, Kabia returned to York Street in the latter stages of the 1986-87 season.
He marked his return with a goal against Kettering in March and ended the season with nine appearances to his name.
The 1987-88 season would be his last campaign with the Pilgrims as Kabia left just before manager Ray O'Brien's departure.
Seeing action largely as a substitute, Kabia scored twice more in defeats to Enfield and Welling before making his final Boston appearance in an FA Cup draw at home to Welling United, ending his time at United with 332 appearances and 140 goals to his name.
Kabia moved on to Gainsborough Trinity before seeing out his playing career with Holbeach, Spalding and King's Lynn.
He later managed Boston FC in 1990.
A fan's favourite during his time at York Street, he also enjoyed local sporting success on the cricket field.
Renowned throughout Non-League in the late seventies, Kabia scored against 44 different side s- most commonly against Netherfield (eight), Altrincham (seven), Bangor, Barrow, Great Harwood and Worcester (six).
Still one of only six men to score 100 goals for the club (alongside Wilf Notley, Jack Stone, John Froggatt, Chris Cook and Marc Newsham), Kabia was undoubtably one of the club's finest ever finishers and last season was inducted to the hall of fame, an elite group of just seven men.