​The win came thanks to Gary King's early opener and then Conor Marshall's header with 15 minutes to go.
It leaves Skegness in eighth place going into the final seven games of the season, and Rawlinson felt satisfied with the result which ended a run of four games without a win – all of those having been on the road.
He said: "In my opinion it was a really important win on Saturday as we didn't want to return from our four long away trips in a row without at least one win.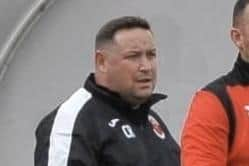 "We are in the grip of an injury crisis so it made the win even more pleasing, with players' positions being moved around and two lads making their first starts of the season, but in all fairness, against a team having a real go at staying up, we controlled the game and could have won by more goals.
"But at the end of day it was a thoroughly professional performance and another clean sheet so we have to be happy. I think between sixth and tenth in the league is where we will finish, which would be remarkable after only getting ten points from the first ten games, so with having five of our last seven games at home we really hope we can push on and finish sixth rather than tenth as a reward for everyone's hard work to date."
Next up is the visit of Anstey Nomads on Saturday, who are still aiming for the title and are eight points behind leaders Loughborough Students with three games in hand.
Rawlinson said: "We are looking forward to hosting promotion-chasers Anstey on Saturday. We ran them really close four weeks ago and hope for the same again.
"They are a great side but really can't afford any slip ups so that pressure really can take its toll on sides and whilst we will still be missing a few lads, we hope that if we stick to our gameplan we can cause an upset.
"All I ask is that we can get a really good home support. The fans have been fantastic this year and it's made such a bug difference to the lads to know that everyone in the ground is behind the lads and pushing us to get the result."