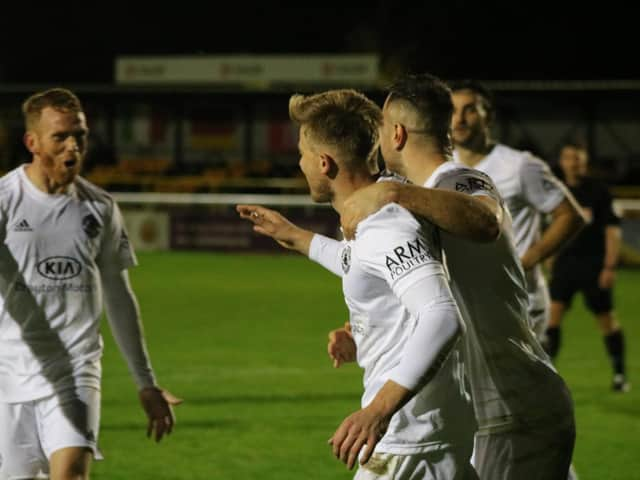 United's players have been in self isolation since a positive test after the 4-0 win at Leamington. Photo: Oliver Atkin.
In the space of just weeks a Saturday afternoon at the football became a very different experience. What used to be a pre-match pie and pint and a squeeze through the turnstile is now track and trace and temperature checks. And that's for those lucky enough to actually be able to get into stadiums.
For Boston United, meanwhile, their elite sport status means that supporters have still not been allowed to watch from the terraces ever since the COVID-19 pandemic forced last season to be cut short in March.
Laptop live streaming allows fans to remain connected with the action. But anyone able to sneak a peak through an open gate into the Northolme would notice there has been some changes to the decor.
Green ticks and red crosses stuck to seats show where you can - and can't - sit to ensure social distancing is maintained, while signs declaring different colour co-ordinated zones (red for players and management, amber for everyone else) usher you to the areas you are allowed to go, depending on the pass you have been handed.
Players, staff, match officials, stewards, and the press - wearing their masks and carrying their already-completed health questionnaires - arrive via designated entrances, their paths not crossing as they head to their colour-coded areas; an attempt to reduce the possibility of passing the virus on.
Football, like any team sport, has always pushed people up close. Whether that's the team travelling, celebrating and showering together or the supporters greeting old friends, queueing at the snack bar, lining up at the urinals or joyfully hugging as the ball hits the net. Or at least it had.
"To be fair, the players have been very good, and that's the start point," said Pilgrims vice-chairman and COVID officer Neil Kempster, impressed by how the squad have accepted the new normal since competing in last season's play-offs.
Vice-chairman and COVID officer Neil Kempster. Photo: Eric Brown.
"Going back to the start of COVID, we've had to implement new regimes for the players at training. Initially, during the play-offs we were doing testing on a regular basis.
"Moving away from that testing, we've still got a regime where we screen them. They have to certify before they come to matches and training they're not showing any symptoms.
"We temperature check them and we've had to limit the number of people in a changing room to enable social distancing. We have to limit things like the number of people in the showers."
The social distancing and the silence of a crowdless stadium are the two obvious differences for the observers at matches. But safety first is very much the motto, and it's not just the players who have bought into that.
Red crosses on seats hammer ensure social distancing at the Northolme.
"All visitors in the stadium now have to wear face masks. They're not the most comfortable but we insist everybody attending wears a face mask for the duration because that's a requirement the (National) League have put on us to reduce the risk," Mr Kempster added, grateful that the common sense of those who attend means nobody has yet been refused entry at the door.
"Everybody who goes recognises the importance of what we do. It's all about risk management, trying to ensure that we provide a safe environment for the players to play, and for everyone to attend safely.
"There are separate access points to the pitch and for the teams to enter the building, separate warm-up areas and the dug-outs are limited how many can sit there. This has been done to minimise the amount of close contact.
"The scientific evidence is that you can have fleeting close contact, but if you have close contact for more than 15 minutes within two metres then the chances of infection being spread is greatly increased.
A barricade between the red and amber zone, with interviews carried out using selfie sticks. Photo: Oliver Atkin.
"That's deemed close contact. Then, if there were cases of coronavirus, people would have to self isolate."
United know all about that, having just finished a fortnight's self isolation following a series of positive tests in the camp following October 6's 4-0 victory at Leamington.
Some club's who have had positive tests have continued to play while the players in question stay home. So why did Boston take such a different approach?
"If you get any COVID cases or symptoms, we're very much guided by the medical advice," explained Mr Kempster.
"When we initially had somebody with symptoms we self isolated that person and got them tested. When it became a positive test you then had to try to trace back where there was contact with the players. Was that contact close contact?
"Then, do we need to take further action? In isolation one person getting a positive test doesn't mean you have to cancel games."
Social distancing at the Northolme.
Indeed, that was the case for United who, following that positive test, announced they planned to play that weekend's fixture against Guiseley, only to postpone it on matchday morning.
"What you have to do is assess from a medical perspective what are the risks of other players being affected by COVID," Mr Kemspster continued.
"Are we still creating a safe environment? That's all to do with the evidence that is built up from the different players and management involved.
"In this case, we put out a statement on the Friday saying a player had tested positive and we'd isolated them. The only person in close potential contact was the person car sharing. We isolated them, at that point we were still playing the game.
"But with further people coming down with symptoms, the judgement was that it was too great a risk there'd been contact between the positive cases and the rest of the squad. The judgement was that it was too risky to get everyone together to play a game of football. It was safer to postpone the game. As we did that others became positive, hence the reason we needed to self isolate."
My Kempster opted not to reveal the number of positive cases in the camp, but he did offer his thanks to the man who helped guide the club through that difficult period, as well as ensuring medical requirements have been met.
GP and fan Robert Kirk-Smith, rarely seen without a temperature testing device in his hand these days - or at least it seems - has been aiding the club with their efforts to get matches played.
"When the play-offs were announced he emailed us and said 'if you need any medical advice I'm more than happy to help'," said Mr Kempster. "We took him up on his offer and he's been absolutely invaluable. He's worked on a voluntary basis and it's been immense, going to training, to matches and being on the end of the phone advising.
"He has gone above and beyond in terms of the time and effort he's provided for the club to make sure we can undertake what we need to do to run games in a safe way."
Planning for a season of football in this COVID-19 world involves a lot of paperwork, preparing guidelines and procedures for stadiums.
Mr Kempster will have the task of doing that for three different grounds - York Street for last season's play-offs, Gainsborough Trinity's Northolme where the club currently lodge and the under-construction Jakemans Community Stadium, where the club hope to call home in the coming months.
"Of course, we have had some experience from the play-offs," Mr Kempster told The Standard.
"We understand what we need to try to achieve and it's then a case of adapting that to the particular stadium.
"We've done it for York Street, we've now done it for the Northolme. We were already half way through, if not more, for doing it for the Community Stadium because, if you recall, we were hopeful we were going to be in there from the outset.
"There is also the added thing that we were gearing up to do it (stadium preparations) for fans initially, then two weeks before the beginning of the season we were suddenly told it was a behind closed doors situation."
The return of supporters - if and when allowed in the National League North - will bring more paperwork each and every time the number of those allowed to attend increases.
But Mr Kempster believes that would all be worthwhile to allow the Pilgrims faithful back in.
"Without a doubt, that's what we were gearing up to do," he said. "On the football side, it's just not the same without the fans. It's almost a guilty feeling when you're there watching and thousands of others who would love to have that chance can't."