Seventeen National League clubs fined up to £40,000 for opting not to fulfil fixtures after funding expired
Clubs looking into vote of no confidence in the league, it has been reported...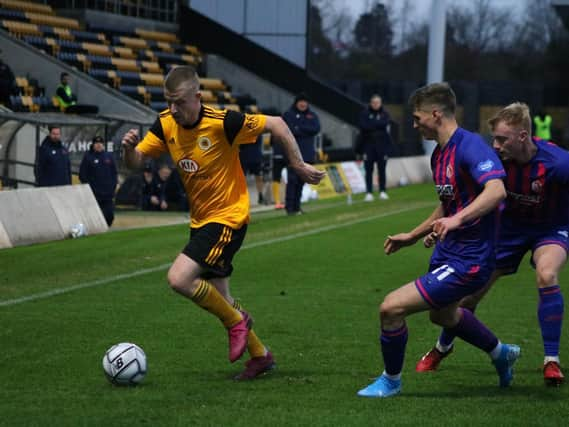 Clubs from the three National League divisions have received fines and points deductions for opting not to fulfil fixtures after funding expired - including at least one team who chose not to face Boston United.
A total of 17 clubs have been handed punishments ranging from £40,000 to £1,400, while it has been reported some sides are discussing calling for a vote of no confidence in the league.
Worst his are Dover Athletic, who have been fined £40,000 and given a 12-point deduction, which comes into play next season.
The National League side said they could not afford to complete their campaign - which continued following a vote by member clubs - without funding to supplement the revenue lost by not having fans in the ground.
The club will play no further part in the 2020-21 season and their results have been expunged.
In step two, 16 National League North and clubs were found guilty of breaching rule 8.39 for failing to meet fixture obligations.
Before the campaign was declared null and void, clubs had stated they too were unable to fulfil fixtures without their usual matchday revenue streams.
Clubs have been fined £2,000 for each match they did not participate in, with that figure reduced to £1,400 per match for accepting the charge ahead of the hearing.
They have also been handed suspended points deductions.
A National League statement read: "Given the extremely unusual circumstances that have affected football at all levels and the financial pressures the absence of spectators has brought to bear on clubs, the panel (an independent panel commissioned by the National League) expressed its sympathy with the clubs' predicament.
"However, the panel believes it must also take regard of the fact that the majority of clubs continued to fulfil fixtures and incur much costs until the League ended on February 19.
"Per breach, each club received a £2,000 fine and suspended two-point deduction for the 2021-22 playing season. A 30 per cent reduction was made to the fine for those accepting the charge ahead of the hearing."
Darlington have announced that they have been fined £2,000 for failing to fulfil their scheduled fixture with Boston United in February.
The National League had ordered the contest to be replayed after the original meeting in November was abandoned in the 87th minute due to an injury to Quakers defender Nicky Hunt.
It is expected that Curzon Ashton would also be among the clubs fined after not staging their league match with the Pilgrims, also in February. However, they have not commented publicly.
Some clubs have made their fines public, including National League North outfits Bradford Park Avenue (£6,000), Southport (£2,000) and Gateshead (reduced to £1,400).
Southport and National League side King's Lynn have been both been fined £2,000 for a breach of the National League's Covid-19 protocols.
Clubs can appeal against their punishments to the Football Association.
A total of £10m in funding was given to clubs from the National Lottery to cover the loss of revenue on matchdays, but that ran out in December.
Non-league journalist Ollie Bayliss has reported that clubs are discussing a vote of no confidence in the National League and fellow members will be contacted on Monday 'to gauge support for an emergency EGM'.