Skegness Town seek strong finish to secure top-half place
​Skegness Town boss Chris Rawlinson is keen to see his side finish the UCL Premier North season on a high as they look to maintain their top half place.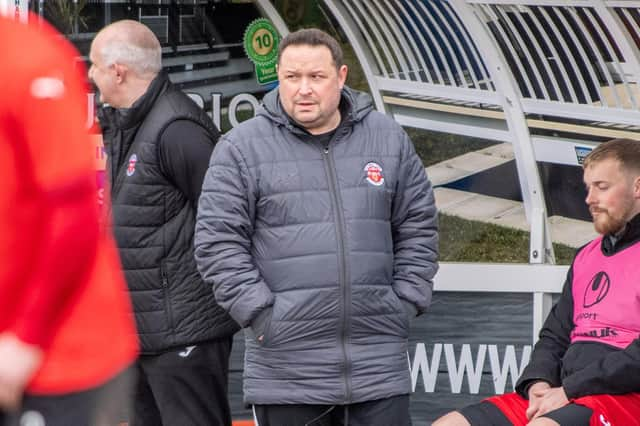 ​Monday's home defeat to Boston Town put the victors one place above Skegness on goal difference, although they have two games in hand so look favourites to remain above the Lilywhites.
But a win on Saturday at AFC Mansfield will secure at least a top eight finish, with Rawlinson backing his players to get the job done.
He said: "It is massively important we finish the season with a win. Last year we lost the last two games and it does annoy you into the summer and I do have a lot of pride in making sure we finish in the top half of the table, so whilst we still will be missing a few players we need to forget about Monday, dust ourselves down, remember we have had a good year in a very difficult league and make sure we can all enjoy our couple of months of with a good final memory of this long, but ultimately enjoyable season."
Monday's 2-0 defeat to Boston came two days after a 1-0 success at home to Eastwood, secured by Gary King's early winner.
Rawlinson said: "I am of course disappointed with our result against Boston but equally as pleased with the win against Eastwood. If I'm honest we are feeling the affects of having a small squad and two games in 48 hours probably was too much to cope with. We have a load of injuries but squad size and strength is my job so I do accept some responsibility for it.
"On Saturday I thought we were good and should have won by a much larger margin and missed a lot of chances, but in the context of keeping in the top eight it was a really important win.
"However, Monday was disappointing, especially in the first half, and I don't want to make any excuses as I do think Boston played really well and scored with two great finishes.
"We of course missed a load of key players and lost a further two to injury in the first-half but if we want to improve we have to ensure we can cope with this situation much better.
"We competed far better in the second-half and made a game of it for the great crowd we had attend but lessons were learned and I may have to be more clever with the squad next year whenever we have two games in such a short time frame."