​The Greens have only lost once in their last nine games and remain in fourth place in the UCL Premier North, just a point behind Quorn in third and ten points behind leaders Loughborough Students, although second-placed Anstey Nomads have three games in hand on top spot and are five points behind.
And whilst Ward felt it was a good point, it could perhaps have been more.
He told the club's social media channels after the game: "It was a good point for us but a good point for them too given our form.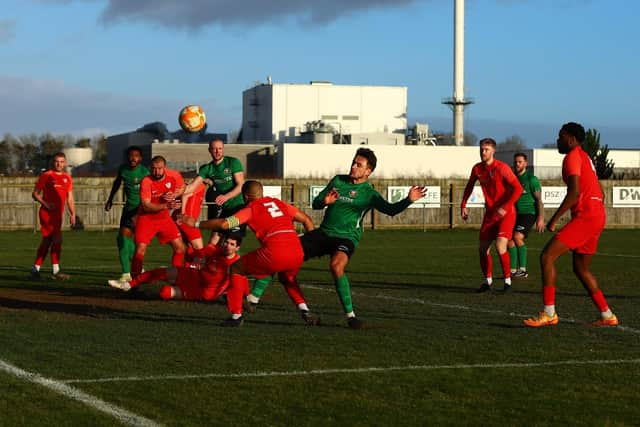 "We're disappointed we haven't won. We created a lot of opportunities despite probably wasting the first 45 with the wind, which died down a bit in the second-half and that suited us more. We had a lot of chances in the box which didn't quite fall for us, but ultimately perhaps a draw is the right result even we could be a bit greedy and ask for more.
"It was a scrappy game and if I was a neutral watching I probably wouldn't have been that excited, but the conditions did play a part and it needed a lot of hard work from the lads to get a well-earned point and another clean sheet.
"We're looking at ourselves as part of mini-leagues at the moment and we've done well to push ourselves up with the likes of Quorn and we're doing our best to stay in that which the point today helps.
"Loughborough have slipped up today and with everyone playing everyone at that top end you never know where you're going to end up but game time is all about what we can do."
Sleaford confirmed the addition of former Boston United man Finlay Armond to the squad before the game, having recently been playing in the USA at Queens University.
Ward said: "Fin's a player we've kept an eye on for a few years given he's a Sleaford lad and he became available. He's obviously aiming to go higher up the pyramid and he's a good age and exceptional player so you never know where he'll end up, but we hope he does well and we can be part of that journey for him, however long he's here for."
Sleaford have a derby battle this weekend as Melton Town are the visitors, then go to Deeping Rangers on Tuesday.