​The win kept Sleaford fifth in the table and four points behind second-placed Anstey Nomads, who still have four games in hand – two of those being on Tuesday and Thursday of this week.
The victory on Saturday came thanks to Joe Smith putting Sleaford in front on 81 minutes, the Greens man blocking a clearance from Loughborough goalkeeper Sam Smith and going on to finish low into the net.
It was then 2-0 four minutes later when Akeel Francis headed home from Jacon Fenton's free-kick.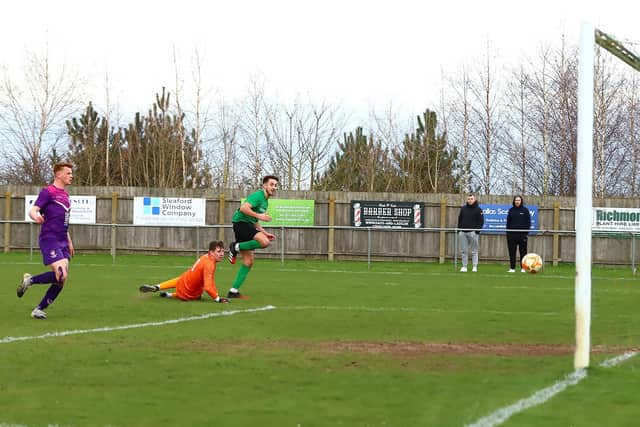 Player-boss Tom Ward told the club's social media channels after the game that he was once again delighted by the display.
He said: "It's a great result. It was another big game for us of course with the league leaders visiting but we've got another good result to stretch our unbeaten run.
"The boys did really well and I'm really proud of them. If we'd gone all out from the start I think we'd have come out second best but we reduced them to where they had the ball in their deep areas where they're less likely to hurt us.
"As a defensive unit we were absolutely superb and then going forward, when we played the ball into good areas I thought we came alive and we've got four or five lads in there with some serious talent who could cause them problems. And again, the set pieces were a heck of a threat.
"It's not just about those 11 lads on the pitch, it's about those on the bench and those who don't necessarily get a shirt, we all club together and that's why we're moving forward and we have a really special group.
"We try and get better every week and we've just beaten the best side in the league so we're definitly doing things right and will keep trying to do the right things and hopefully end up with more positive results by the end of the season."
Sleaford go to bottom-of-the-table Selston on Saturday and then have a tough month of fixtures to end the campaign, Ward adding: "We have a tough set of games but others above us have tougher ones so all I care about is us doing our business."