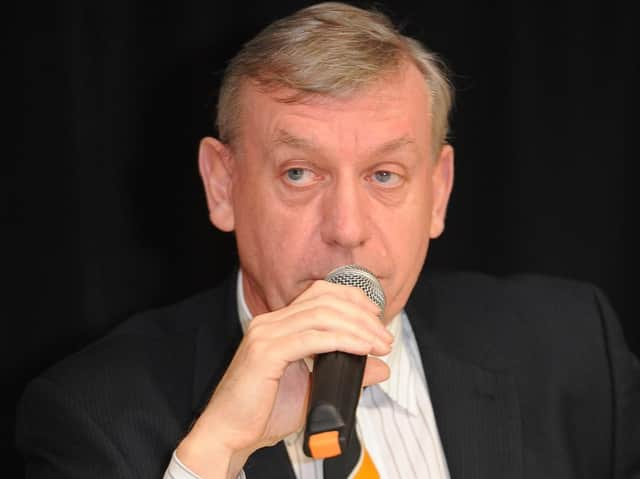 David Newton says that Boston United's top priority is 'looking after everybody' while the club receives no income.
Like all non-league football clubs, the Pilgrims survive 'hand to mouth' with the majority of its cash coming in through the turnstiles and bars on matchdays.
But with the National League suspending all action until at least April due to the Coronavirus outbreak, United are suffering a cashflow shortage while also having to pay staff and player wages.
The Community Foundation - which offers coaching and education in schools, as well as overseeing the walking football and cheerleading branches of the club - is suffering the same problem as education centres shut from tomorrow (Friday).
And Mr Newton says it is vital to look after both the football club and community team.
"That's why we got involved with the football club, as it is at the heart of the community," he told The Standard.
"We have to make sure the Community Foundation survives in total as it plays an important part in the borough.
"The league is suspended, but it's more a case of looking after everybody.
"I fully understand the decision, and support it. That said, we are now in the difficult position as a football club of having no income.
"The Community Foundation is getting no income either as schools are closing.
"We are trying to manage the situation at the moment. We are no different to any other football club, we work hand to mouth, cash-wise."
The Pilgrims have submitted information about their incomes - and what they expect to lose as the sport is suspended - to the National League.
It is believed a prospective rescue package will the be put forward to the Football Association and Government.
"We'll do our best to make sure everybody is being paid and we can function as normal," added Mr Newton, who is desperate to ensure all clubs and not just his own survive this difficult period.
"You can't run a business with no income, but we're trying to make sure everybody is being paid still.
"We definitely need help otherwise we will not have a competition to complete."
The Pilgrims earned more than £100,000 in prize money from this year's FA Cup run.
"The cup money doesn't cover normal losses," Mr Newton said.
"It doesn't give us a cushion really. We're in the same boat as everybody else."
Mr Newton also confirmed that this week's training sessions, including this evening's, have been called off.
Some teams have taken similar steps in a bid to minimise contact between players, while others continue as normal in the hope of maintaining fitness if the league were to start up as expected.
"We've stopped training at the moment," he added.
"We've told players we're not training before Monday evening, and we'll be reviewing whether we train then or not.
"Some clubs are, some clubs aren't."