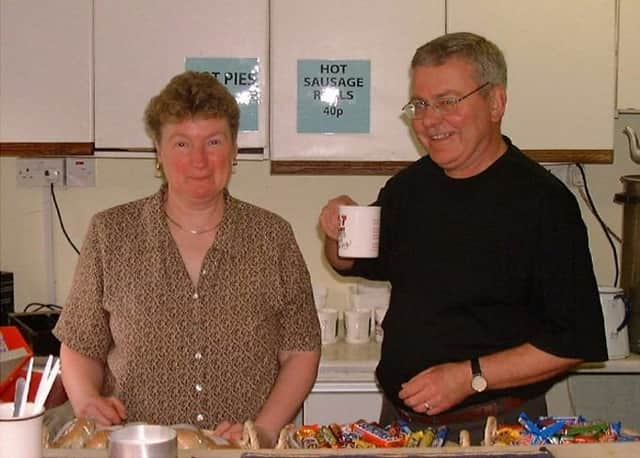 He had been ill for some time and was being cared for by his wife Pam.
The couple were a familiar sight at Boston Town, running the tea bar for many years.
Pete's connections with the club go back decades, helping with everything from fundraising to working with the youth team and writing for the programme.
Pete and Pam's son Pete junior played initially for Boston FC juniors in the 1980s before progressing to the first team, where he made almost 100 appearances.
Former manager Martyn Lakin remembered him as "a wonderful man who did so much for The Poachers."
Ex-player Stu Park said: "That is so sad. Pete was Mr Boston FC during my time there."
Mark Foster, Mark Melson, Nigel Vince, Kevin Reeson, Leigh Taylor, Ollie Pinner and Paul Timby were among many other former players who paid tribute to someone they remembered as a wonderful man and a successful coach.
Dean Elston, who was part of Boston Town's last United Counties League Premier Division title win in 2001, said Pete would always be a big part of Town's history.
He recalled: "He was a big part of my time at the club. Both Pam and Pete were so welcoming and always had time to chat."
Former Boston Standard Sports reporter Duncan Browne said: "A lovely man and one of the first people you'd see going into the ground. Always had a smile and joke for you, even when he wasn't well."
Former programme editor and kit man Andy Sandall said: "Families like the Massams are the lifeblood of a community club like FC/Town and Pete was always willing to fill any role that was needed at the time.
"I can never thank him enough for spotting the potential in me as a shy teenager to offer me the chance to write the away game reports.
"My thoughts are with Pam and the family, and thanks Pete for everything."
Steve Pinner, who has been a long-time sponsor of the club and whose son Ollie is one of only 8 players to have made more than 300 appearances for the Poachers, said: "Pete was a smashing guy, always had time to chat, even when he was going through tough times."