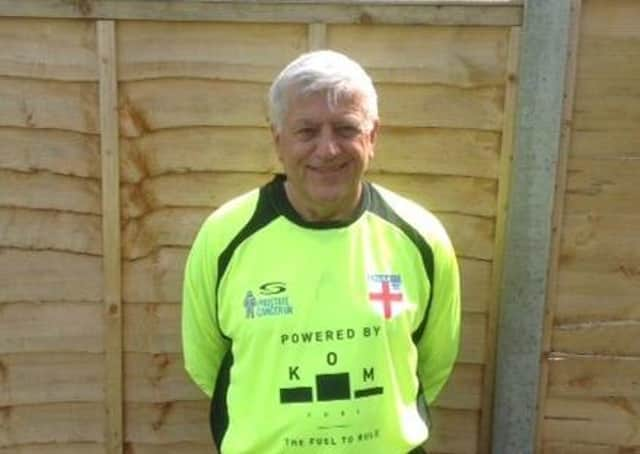 Following government guidelines, squad members have begun meeting up again.
And club secretary Stephen Morgan is among those delighted about being able to get back out there once again.
"When you get to my age, which is 64, you feel that you've been robbed of quite a bit of time when you can't play," he said.
"If you miss a week it's a long time when you're at this age.
"We can train in groups of up to six in a designated area, at the moment.
"We're fortunate we have a good relationship with Sleaford Tennis Club. They have four individual courts and technically we can have groups on each of the courts.
"It's nice to kick a ball again."
Sleaford Academicals currently have 35 members, aged from 35 to 73, and are keen to recruit more men and women to the growing sport.
The club competes regionally and further afield and can boast England over 65s keeper John Sykes (pictured) and Kerry Bampton, who was selected for north east over 50s regional team, in their ranks.
"We're a bunch of old men having a great old time, but there are benefits," Mr Morgon added.
THE FA are linked with Age UK. Age UK actually now, as a national charity, have a walking football development officer.
"They recognise there's a great medical benefit, so does the British Heart Foundation."
Walking football - which rules out running and sliding tackles - ensures soccer is still accessible to people who may not longer be able to compete in the senior game.
It is now proving popular with the over 35s and women.
You can learn more about the club at Sleaford Academicals' page on Facebook.