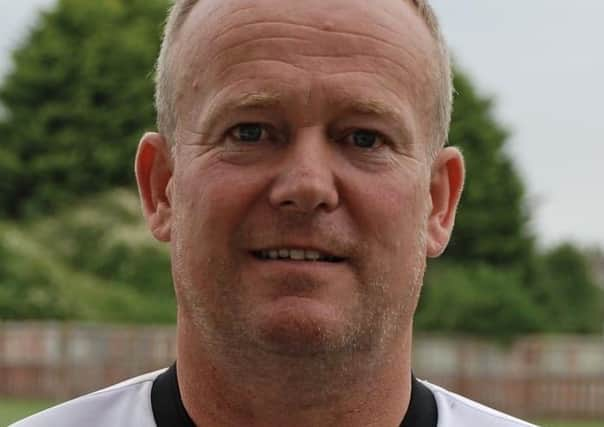 The group of Walden's former squad members - calling themselves Wally's Warriors - ran and cycled a marathon-plus distance between Skegness and Louth - from the previous sites of two of his former clubs - prior to Christmas.
They set an initial target of £1,000 to be donated to St Barnabas Hospice, Louth, who offered care and support to Walden before he lost his battle with a brain tumour in November.
However, that target was smashed almost as soon as a GoFundMe page was set up, with the target continuing to grow as sponsorship continued to arrive.
"I can honestly say it's the best day I've experienced in 2020," said Mark Hallam, one of the players to have worked under Walden at both the Lilywhites and White Wolves.
"A truly special event, experiences with special people from start to finish.
"We managed to hit the £12k mark before the runners set off at 9am on Sunday (December 20) morning which was a real boost for everyone involved."
Twelve people managed to complete the whole thing with the first group home in just 3 hours and 42 minutes. Former player Sean Chamberlain also took part in New Zealand, where he now lives.
More than dozen bikers set off at 11am with all of them completing the course and more than a dozen more runners including Wally's daughters Parice and Becky and son Jordan completed part of the course in memory of Walden.
Support came from the sidelines as well, with well wishers cheering the runners and cyclists as they set off, also along the route and as they reached the finish line.
"Even though he's no longer with us, the Gaffa was able to bring us all together as a family again which allowed us to celebrate his life and reminisce on so many fantastic memories we have of him," Hallam added.
"The spirit and positivity was so strong, allowing us to pull each other through what was arguably the most difficult physical challenge any of us had ever been through in our lives."
Walden, who also managed Grimsby Borough, guided both Skegness and Louth to back-to-back league titles.
At the time of press £15,105 had been raised, a boost for the team who wanted to reach that target by Christmas Day, Walden's 'favourite time of the year'.
You can still donate to the cause by visiting the GoFundMe page: https://uk.gofundme.com/f/running-for-the-gaffa