"We came away excited and the deal was done very quickly!" New Sleaford Town chairman Nigel Wedgwood on joining the Greens
Dean Williams arrives as vice-chairman with Brian Rowland returning to role of president...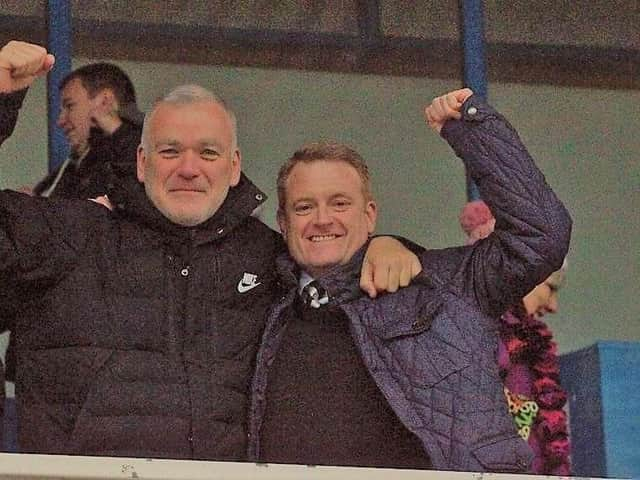 Nigel Wedgwood (left) and Dean Williams.
Nigel Wedgwood is 'excited' to be back in football after being unveiled as the new chairman of Sleaford Town.
The semi-retired businessman, who has worked in banking and property development throughout his career, had his role officially announced by the Greens yesterday.
Mr Wedgwood, the former Grantham Town chairman, will be aided by vice-chairman Dean Williams, who was his number two with the Gingerbreads.
Their arrival at Eslaforde Park will longstanding club stalwart Brian Rowland vacate the position and return to his former role as club president.
"Over the last couple of weeks, through conversations with people who knew Jamie Shaw (manager) and Brian Rowland, we met up for a chat," said Mr Wedgwood, who is based in Nottingham.
"Dean and I went to have a look at the club and met the fantastic people who kept it going. After two-and-a-half hours we were much aligned the four of us and it was a no brainer.
"We came away excited and the deal was done extremely quickly."
Next up for the Wedgwood-Williams team is to begin looking at ways to make the football club even more of a focal point within the community.
"The biggest thing we did at Grantham, and what I was most proud of, was that we engaged with the town," the chairman added.
"What I want to do with Sleaford is to engage with the town, the schools, the charities and the council.
"Of course, there are 19 youth teams and we want to engage with them more and give them the aspirations to want to be in the first team.
"Brian Rowland has been there as a player and manager for years, Jamie Shaw has played 500-odd games - they're so devoted to the club, and the committee as well. It's all about people and volunteers. If you get the town behind us then we're away.
"They have struggled financially, they admit that, and we're looking for investments from businesses and ways to raise support."
Mr Wedgwood exited Grantham last February, vowing to leave the game behind. But once you get the football bug, it's hard to shrug it off.
"Grantham was a great journey for me and, hopefully the club, as there was an awful lot done very quickly over a couple of years," he added.
"But in some ways we were basically a victim of our own success, I was voluntary and had too much landed at me. I was doing 25-30 hours at the club and the ideas we had were only going to make that worse.
"I called it a day but hopefully left a good plan behind, the academy with hundreds of kids in there and hopefully the club are in a better place.
"I left and said I was never going back into football, and then Covid and lockdown came and I missed it intensely."
Mr Williams left the Gingerbreads at the same time, but the duo are keen to be working together once more, Mr Wedgwood a believer their skill sets complement one another.
"Dean, he's in the top 20 of Forbes' business coaches in the UK, a fantastic bloke," he added.
"We're so aligned in what we do. I brought him to Grantham six months before I left.
"You always need a blueprint and Dean's your man for that sort of stuff. I'm the big, loud Scouser, where he's the businesslike and structured one. We're excited to join up again."