Who makes the all-time England XI?
Duncan Browne picks his fantasy Three Lions...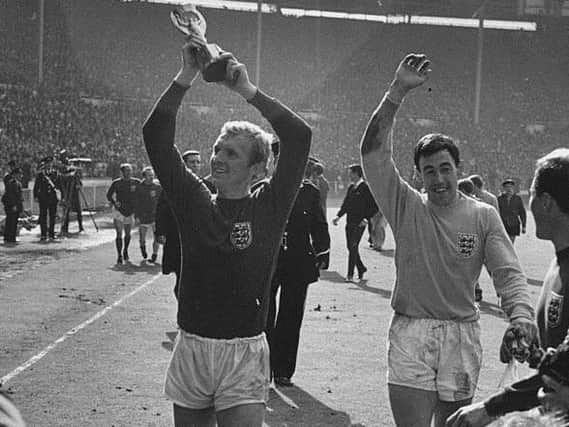 A total of 302 players have been capped at full international level for England, by 19 managers, competing in World Cups, European Championships, qualifiers and friendlies. Picking a best XI is no easy task, but I've had a go...
Keeper Banks was an integral part of England's 1966 World Cup-winning team, but it was probably that save against Pele four years later in Mexico - dubbed the greatest in the history of the game - which is his defining moment between the sticks for many football fans. Banks made 73 appearances between 1963 and 1972 and was awarded the OBE.
Part of England's 'golden generation', Neville was a solid, no-nonsense right back with a determination to win and an intense work ethic. His relationship with best mate David Beckham translated just as well on the turf where the two enjoyed a good understanding for both England and Manchester United. Neville earned 85 caps.
Ashley Cole may have been the more complete left back, but there was something about Psycho that got the England fans going and the opposition worrying. Pearce - who played 78 times for his country, including the semi-finals of Italia 90 and Euro 96 - was a fearless leader, hard tackler and someone who knew how to wallop a free kick. He saw a penalty saved during the semi-final defeat to Germany in 1990 but made amends from 12 yards in a shootout victory over Spain at Wembley six years later.
The former Liverpool skipper scored 21 times in 114 appearances for England, including one in 2001's famous 5-1 victory over the Germans in Munich. While there were plenty of notable rivals for this spot, Gerrard's tenacity, leadership and eye for goal gets him the nod.
In an era where England were spoilt for choice in central defence (think Sol Campbell, John Terry, Ledley King, Jamie Carragher etc), Ferdinand stood out. He was just as comfortable running with the ball or playing an inch-perfect pass as he was doing the dirty work. Ferdinand earned 81 England caps.
Sir Bobby Moore was the captain and poster boy of England's 1966 World Cup success. He was an accomplished and assured central defender, and natural leader, who made a total of 108 appearances for the Three Lions, playing at three World Cups.
Nobody quite captured the imagination of the public quite like Goldenballs. Beckham's 115 England caps can only be topped by Peter Shilton (125) and Wayne Rooney (120). Few can match the winger's deliveries... his free kicks getting his team out of enough scrapes over the years. But just as he wowed football fans, Beckham also caught the eye of many not interested in the beautiful game.
Forget the fake breasts, the pranks and tears in Turin, Gazza was at his best with the ball at his feet. The Geordie playmaker's love of life - and a joke - may have made him a media darling, but Gascoigne deserves to be remembered for his wizardry. He made 57 appearances for England.
The Premier League's record goalscorer netted 30 times for England in 63 appearances, and won the Golden Boot at Euro 96 with five goals. Shearer was the classic English centre forward, strong, powerful and just as at home heading the ball and smashing home a volley.
My England strikers may be more at home on the Match of the Day sofa together these days, but what a combination they would have made in their prime. Lineker was top scorer at Mexico 86 with six goals. The goal grabber scored 48 times in 80 England appearances.
Jamaica-born winger John Barnes made 79 appearances over a 12-year period and is perhaps best remembered for beating the Brazilians at their own game with a superb solo goal in Rio de Janeiro in 1984. Barnes played at Mexico 86 and Italia 90.
SUBSTITUTES: Bobby Charlton, Terry Butcher, Wayne Rooney, Bryan Robson, Peter Shilton.