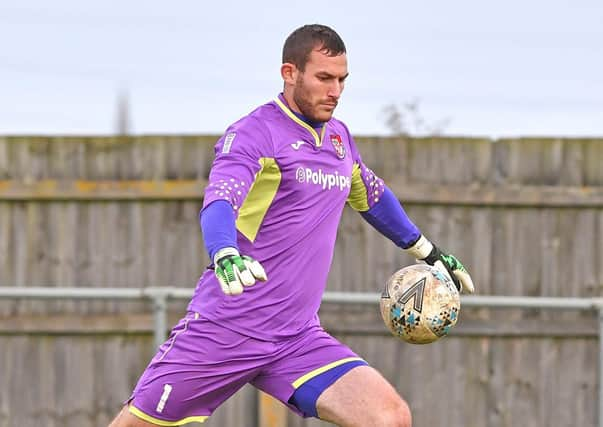 Former St Vincent international Kevan Henry was drafted in between the sticks for the Balcan Lighting Supplies Lincolnshire League opener against Brigg Town CIC before Burchnall returned for Saturday's 4-1 defeat to Immingham Town.
But he was replaced after an hour when a thigh injury which had kept him out of pre-season returned, Scott Lowman - who was playing as a makeshift defender - donning the gloves.
"He's likely to be out long term, for a couple of months," said manager Mickey Stones.
"We've limped through without a keeper all pre-season really, hoping Lewy would be back fit.
"He's felt his injury in the warm-up, and he's likely to be long-term now.
"We're looking at having another keeper in for Saturday and hopefully that'll be long term. But it'll be three games and three different keepers which isn't an ideal start. The back four need to feel confident and have someone regular behind them."
following the draw with Brigg and the weekend's defeat, Stones is targeting Saturday's visit to Appleby Frodingham (KO 3pm) for three points.
"With the ambitions we've got we need a win really," he said.
"We've got no midweekers so we've got an opportunity to watch them (last night).
"We can beat anybody if we've got a full squad available."
Town are hoping defenders Steve Brown and Alec Enderby will return after missing Saturday's defeat at Immingham, where James Gordan's goal was cancelled out by finishes from James Wroot (two), Connor Southern and Aaron McKenzie.
Henry, who won 10 caps for St Vincent, was drafted in for the Brigg contest by Wonger John Rawdon, who he serves alongside in the Army.
"He's just based here in the Army so John Rawdon got him in for a game," Stones explaianed.
"We didn't know what level he was until after the game and we'll struggle to get him to commit to play for us.
"I don't think he was quite sure what level he was coming to either. I'm sure he'll turn up somewhere higher up the footballing pyramid soon."