York Street's finest moment? Boston United fans have their say
Supporters reflect on happy memories at Pilgrims' stadium...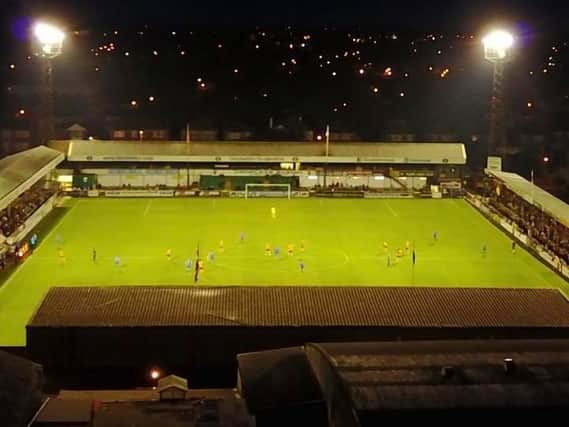 Boston United have called York Street home since 1933. But the Pilgrims may have played their last game at the famous town-centre stadium as the lease at the ground is due to run out this summer. We asked supporters to share their favourite memories...
Many fans thought this season's FA Cup second round clash with League One Rochdale was a stand-out moment, the 2-1 defeat played in front of the BT Sport cameras and more than 4,000 fans.
"Just for what it meant to me at the time and the significance of the final York Street FA Cup run... it has to be that Thewlis goal against Rochdale," said Sam Deptford.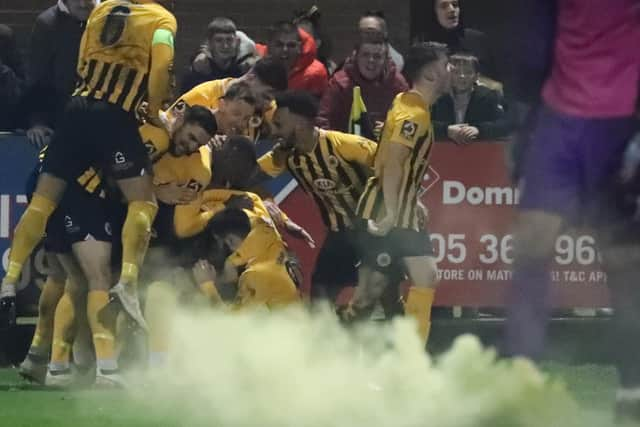 The sense of occasion was also a special one for Twitter user Lord Cutler Beckett: "That roar, and specifically sharing it with my son who simply had a look of absolute disbelief on his face as he fought to keep his feet as the whole place erupted. Fifteen years he has waited to understand what it means. And there it was..."
Oliver Atkin agreed: The whole Rochdale spectacle is something I'll never forget, I'll see it as York Streets last great swansong now. Still get goosebumps now thinking of Thewlis' goal."
"Jordan Thewlis versus Rochdale, really takes a lot to beat that," added Renny Overton.
Chris Loach added: "FA Cup replay night was pretty special, great atmosphere!"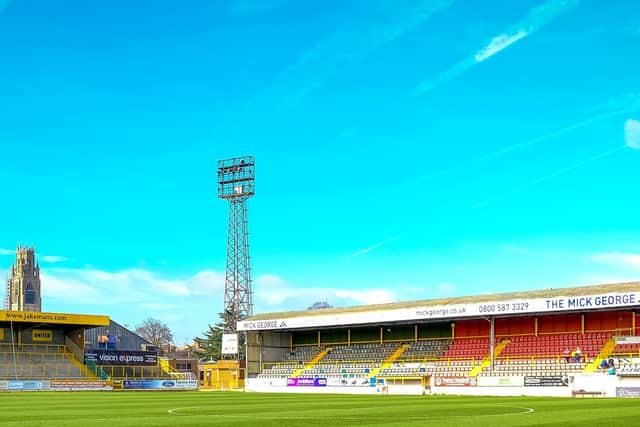 Lawrie Dudfield's last-gasp winner for United against League Two rivals Lincoln City in 2006 also stirred a few memories.
"There have been numerous, but for sheer elation the Lawrie Dudfield late winner against Lincoln City at the York Street end. He raced to the dugout and was royally mobbed! The look on his face was magic! Gave me goosebumps for a week! What a sweet moment," said Peter Taylor.
Will Laird added: "Lawrie Dudfield's last minute winner against Lincoln. Great atmosphere that day, will always remember that game."
Another victory over Lincoln, Boston's first home win in the Football League in 2002, struck a chord with Giles Elson.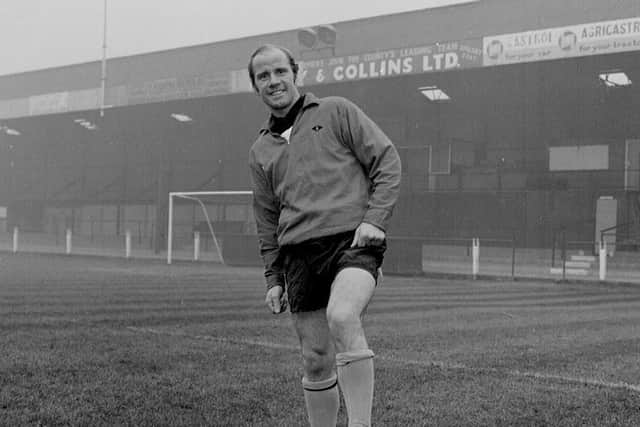 "The 2-0 win against Lincoln City in the first league derby between the two sides, absolute scenes," he said.
Two big games at York Street that also stick in the mind are 2000's 3-1 victory over Grantham Town, which saw Boston secure the Dr Martens Premier title, and the 2-2 home draw with Bournemouth in 2002, the club's debut in the Football League.
"The first league game against Bournemouth. We'd made it," Scotty Walden recalled.
Twitter user Steve added: "I have two the first league game versus Bournemouth for all the anticipation and my favourite game versus Luton in the league cup."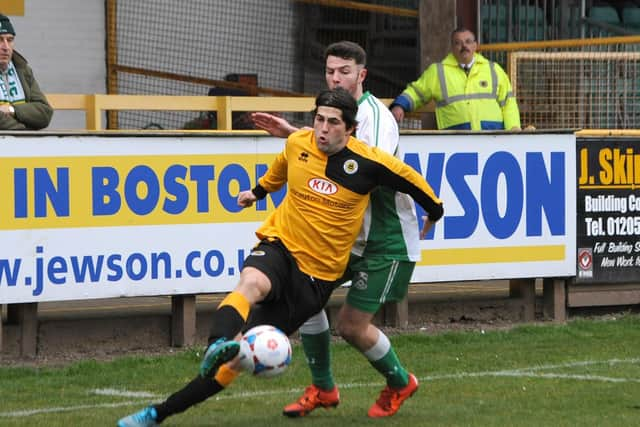 Rob Pick said: "The first league game against Bournemouth was huge, but that first league win against Lincoln always brings back memories for me, Daryl Clare celebrating in front of a Town End full of Lincoln fans."
The Dr Martens title win, and a special family moment this season against Altrincham, will live with Adam Upsall, whose son Dan was a club mascot.
"Before this season, Grantham to seal the Dr Martens. Big crowd, huge expectations, went behind, came roaring back. It felt like joy and relief. We were winners again. But overall it's the easiest question anyone could ask. Sunshine, family all there, 5-0 win, the proudest I've ever been in my life. Original plan was wait till last game of season, thank God I changed my mind."
"The 3-1 win over Grantham in the Dr Martens Premier to win the league, Micky Nuttell's elbow was perfect and the Town End was rocking that day," said Marc Harvey.
"Favourite York street memories... the 3-1 win against Grantham to clinch the Dr Martens," James Trafford began. "Lee Thompson's last minute goal against Yeovil in the 3-2 win. Atmosphere that day was brilliant. More recently has to be Rochdale. We were very unlucky to lose, Townend was rocking!"
Luke Clark agreed with one of the above options. Looking back to 2004 he added: "Lee Thompson's last minute winner, running clean through from the half way line against Yeovil... brilliant stuff!"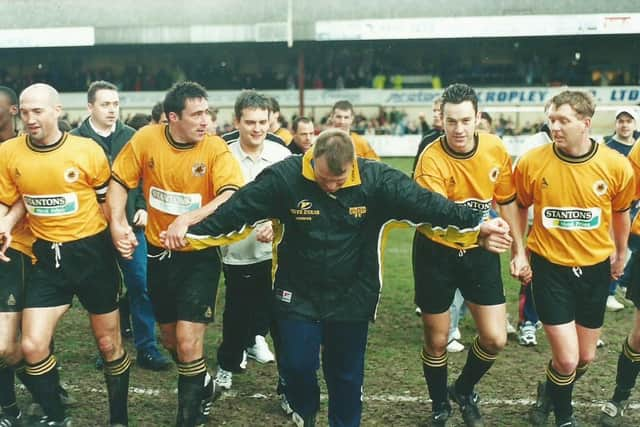 Liam South said: "Against Yeovil Town, Boston won 3-2 with Lee Thompson scoring a last minute winner. Probably the best game I've seen at the famous stadium."
Tom Graves and James Broughton both reflected upon one evening in 2011 when United came from 2-0 down to beat league leaders Alfreton Town 3-2.
"Such a massive win at the time and the atmosphere was incredible that night," Graves said.
Another fightback from 2-0 down saw Daryl Clare grab two late, late goals as the 10-man Pilgrims held Doncaster to a draw in the 2001-02 season, which struck a chord with Josh Butler and Liam Brooks.
Malc Whiley, Steve Dickinson, Chris Wander, Wayne Atkin and Andrew Dawson all chose the 3-2 victory over Altrincham in 1985 which secured United's place at Wembley as their stand-out moment.
"Bob Lee with a massive header against Altricham, only time at York Street I ever had the uncontrollable urge at the whistle to get on the pitch," Malc said.
Matt Derwent also picked a home game from that Trophy run, the 5-4 victory against Blyth Spartans.
Pilgrims legend Jim Smith also featured among the mentions.
"Getting a thumbs up from Jim Smith stood in the York Street End when Oxford came for a League Two game," said Nathan Hildred.
Paul Clarke suggested: "Jim Smith scoring in the FA cup against Hartlepool in 1972."
Other moments that stood out for fans included Paul Gascoigne's first appearance in amber against Newcastle United (Scott Burrell), keeper Paul Bastock almost scoring from a goal kick but the ball stopping in the mud (Craig Mitchell), Beating Barrow 8-0 in 1976 (The Third Twin's first game), the 3-0 FA Cup victory over Morecambe in 1996 (Pete Brooksbank), beating Luton Town 4-3 in the Carling Cup (Andy Pickwell, Ian Thomas), watching Ricky Miller ' terrorise defenders like a Jack Russell dog chasing a rat and banging in 24 goals during the season 2013-14' (David Brackenbury) and Zak Mills' volley against North Ferriby in the 2015 play-off semi (Adam Hobart).
Holding Sheffield United to a 1-1 draw in the FA Cup in 1982 was among Andy Butler's stand-out memories while Richard James Killick remembered 2002's 6-0 thrashing of Shrewsbury, following eight straight defeats,
XRP Hilton enjoyed great atmospheres in the 4-3 home defeat to Hereford United in the 2001-02 campaign and 4-1 home reverse against Premier League Fulham in 2004.
Many fans opted for personal memories rather than games or goals to reflect upon.
"I was told I was going to see the Pilgrims for the first time and I could not sleep the night before the day of the game, I think it was Yeovil and we won 6-3," Chris Kilmore said of a game in 1982.
Matt Bailey enjoyed seeing his son on the pitch earlier this season: "Southport at home this year, Jack played on the pitch at half time and scored towards the Town End. The only time I've got dust in my eye watching him play football."
Miles Tarbox added: "Last day of the 2017-18 season. I was moving to Brighton and wasn't sure when I'd next be able to come back home to see them play. I spent the whole day with my friends and absorbed every moment.
"That's what York Street was to me, somewhere I'd meet the most important people in my life."
Long-distance fan Hugo Scheckter said: "Sadly the only game at York St was a 0-0 draw at home to Witton Albion in 2009. A rather rotund centre back for Witton was the best player in a fairly drab affair. Pies were good though!"
Of course, York Street isn't just about Boston United and the Pilgrims fans.
Lee Vacey enjoyed his Railway Athletic side beating fellow Boston League outfit Leverton FC 4-0 in the Dickie Dales Memorial Cup.
Leverton themselves have some happy memories from the stadium.
"Raising over £15,000 for various charities in the Dickie Dales Memorial cup final," the club's Twitter account read.
"Refereeing a behind-closed-doors friendly where the only spectators were Dennis Greene and his cocker spaniel puppy," was official Dave Avison's highlight.
Chorley fan Magpie Paul obviously enjoyed Adam Roscoe's famous overhead kick in the 2014 play-off clash while sportswriter Jack Connor can't think beyond watching his beloeved AFC Fylde clinch the National League North title at York Street with a 3-o success.
"Surely writing my Shropshire Star match report in Lincoln A&E in 2018-19 after accompanying Telford United keeper Andy Wycherley," said Richard Worton.
"There when a blow to the head meant he lost sight in one eye. Never saw us win at York Street, but memorable isn't always good, is it?"
Lincoln fan Simon Cook added: "Phil Brown's last minute Boxing Day winner in 1987. Beating the local rivals away from home in front of a then-record Conference crowd. A team of fighters from 1 to 11. What's not to like?"
But on this occasion the last word is saved for the Pilgrims' cross-town rivals Boston Town.
Writing via their Twitter account, they remembered: "Monday, October 29, 1979. FA Cup second replay (remember those? Hence played on a neutral ground): Skegness Town 0 Boston FC 1 (Martin Johnson 75 mins), attendance: 1,000."