He's done it! Captain Harry swims Channel
A Sleaford Army Captain has succeeded in swimming the English Channel, overcoming waves, a crippling shoulder injury and stripping a layer of skin off his tongue.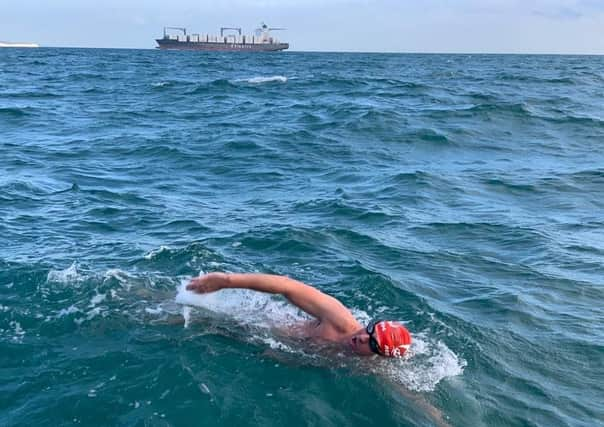 Captain Harry Grantham completed his 27-mile Channel swim on Thursday in 16 hours 37 minutes.
He landed on the beach at Wissant, France before heading straight back in the pilot boat that had escorted him through the busy shipping lanes. He could only spend 90 seconds on French soil and pose for a photo for a congratulating French couple before having to leave due to Covid restrictions.
He said: "I wanted to sit and contemplate what I had done, but had to push on. I had been horizontal for 16 and a half hours and was violently ill on the way back as my body adjusted to being upright."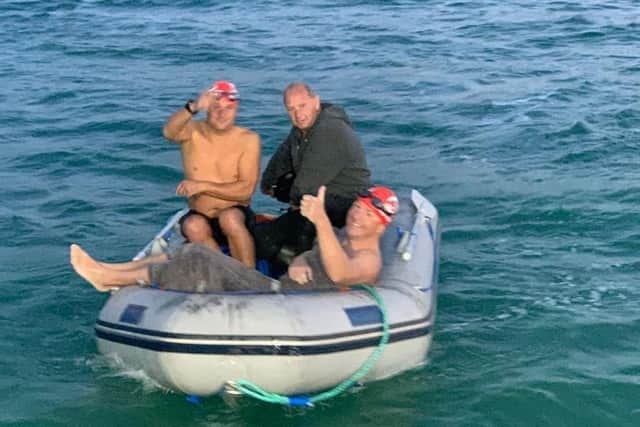 Capt Grantham had set off at 3am in the morning having waited all week for clear weather to make the crossing with the aim of raising money and awareness for the Royal Artillery Charitable Fund to support Gunners dealing with mental illness, as he used to be in the King's Troop Royal Horse Artillery.
Harry said the weather was still not as calm as he hoped and he immediately encountered big swells and unexpected tides. He said: "The Channel chucked everything at me and I had to fight it and overcome it."
He added: "My shoulder went about six hours before the end and it is black and blue with bruises and inflamed now and I cannot raise it, but it is getting better."
He is also having to avoid salty and spicy food as the seasalt stripped a layer off his tongue.
Harry said: "The first 24 hours afterwards were agony, but everyone's comments on Facebook have kept me going. Sunday it suddenly hit me emotionally, but it was all worthwhile."
Capt Grantham had been attracted to the challenge because of the mental as well as physical demands he would have to face, having previously recovered from a period of mental illness following the break up of his marriage and relocating away from his family to London district headquarters with the British Army where he oversees all mounted troops in that area.
"This challenge has kept me focused and I would recommend it if anyone is struggling and having a bad time mentally to get that extra focus," he said. "I was 100 per cent prepared for this swim and full of positive thoughts."
He hopes to break down the stigma of mental health among men, encourage those experiencing mental health issues to come forward and seek help at an early stage, as well as urging others to offer support if they see something wrong. So far his swim has raised £6,900 for the charity.
The pilot boat helped to keep Capt Grantham safe and on the radar of other shipping, dodging container ships and ferries passing within a few hundred yards.
He had hoped to reach a promontory of land, which is the shortest route, but the tide prevented him. "Swimming past that lighthouse knowing I wasn't landing there was a challenge," he recalls. "It was a long journey to finally get to that beach."
At first he did not realise he had reached land until his friend told him to stand up. "It was just an amazing feeling to have the sand in your toes," he said.
He has received well wishes from around the globe and was even mentioned at the British Embassy in Washington.