'Delighted' Kyle Jenkins clinches podium place in debut
Bike ace swaps Motocross for Mallory Park...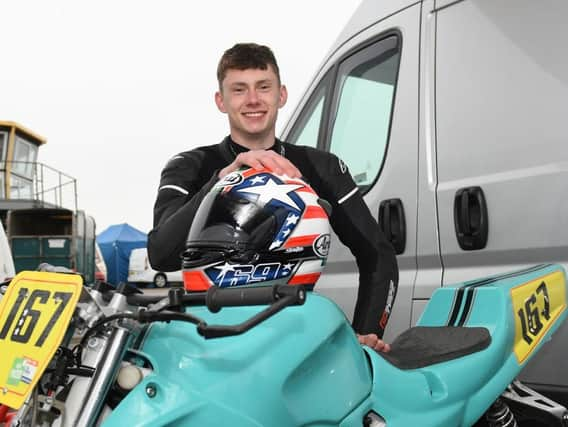 After years of racing in Motocross, Ruskington's Kyle Jenkins began his road racing career at Mallory Park on Monday with the EMRA club.
And he clinched a podium finish in his two races in the Midland Performance Bike Rookies class.
The 22-year-old electrician didn't pick the best of days for his debut as the conditions were terrible with heavy rain and strong winds to contend with but he got his head down and completed his qualifying in a strong eighth place in the mixed grid of riders of 1000cc and 500cc bikes.
Kyle got away to a good start in the first race and settled into seventh place overall before moving up to fifth on lap two.
He made it up to fourth mid race before being overtaken on the final lap of the 10 lap affair by Simon Taylor on the more powerful 1000cc BMW.
But Kyle was pleased to find he had finished third in his class to pick up a trophy in his first ever race.
By the time the second rookie race took to the grid the conditions had deteriorated further and the event was reduced to five laps.
This time Kyle got an excellent start and was third overall at the end of the first lap.
He passed Mark Meakin on lap two and held second place on laps two and three but was overtaken by the two more powerful bikes of Simon Taylor and Joe Higham on lap four and finished the race fourth overall but once again third in his class.
Kyle also rode in the two Dunlop CB500 races where he was up against some very experienced riders.
He completed the first race in 25th place and went on to record a fine 17th in the second encounter.
He said: "Bearing in mind I have never ridden in the rain before and it was my first time out on a road circuit I am delighted to have come away with a brace of third places in the Rookie races.
"I was holding second overall in the last race for a while but unfortunately the bigger bikes are so much faster on the straights so I couldn't maintain the position.
"I have to say a big thank you to everyone that's helped over the winter getting both bikes ready and especially to Roy Ridealgh at RP Motorsport in Grantham, Lee Jenkins and Charlotte Jean for all the time and support given, not only today but the past couple of months as well."