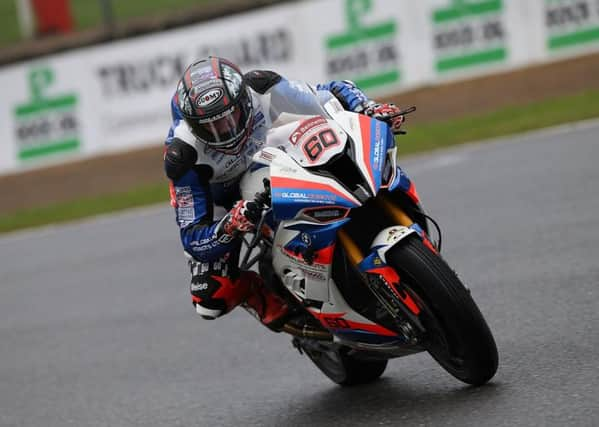 Keen to end his championship challenge on a high note the Lincolnshire rider rode well in free practice and qualifying to put the Global Robots by Smiths Racing BMW on the fourth row for the start of the first of three races at the Kent circuit.
He was involved in a race long battle with Gino Rea for position and finally crossed the finish line in 13th position.
He started the second race from the fifth row but got away to a fantastic start making up six places on the opening lap.
He entered into a battle for fourth place within a large group of riders but was unfortunate to run wide at Druids towards the end of the race and crossed the finish line in eighth place, equalling his best result of the current campaign.
Once again starting from the fifth row in the final race of the season he gained places to 11th on the first lap and made steady progress through to eighth position once again.
With four laps to go he was up to seventh but on the penultimate lap was pushed back a place and crossed the finish line in eighth position.
Hickman said: "Well, it's certainly been another challenging weekend, but finally, on the last day of the season, we have been able to be a lot more consistent and closer to the front.
"Battling for fourth in the second race of the weekend was great and it was the first time we've been able to show what we can do this season by a long way.
"The early part of the weekend was a bit of struggle, but we found something during qualifying and although race one didn't go to plan today was a lot better.
"Obviously we're not going to be over the moon with a pair of eighth place finishes but it's a massive step forward and to be in the fight with the guys around us and being able to work forward was great.
"It was nice to finish on a bit of a high with the Smiths Racing team, this was their final race weekend and I've had a lot of success with them over the years, so it was nice to end with our best results of the season.
"The team has worked immensely hard, as always, and Alan and Rebecca have been great to work with so I certainly hope they'll still be in and around the paddock in some form still for a number of years."
Hickman is aiming high for 2021 with the confirmation he has signed a mystery Superbike deal that will also see him competing at the major International Road Racing events.