Nigel is just warming up for epic 900-mile iron man event
A Sleaford man has completed an Iron Man two-day effort of swimming, cycling and running to raise money for Macmillan Cancer Support.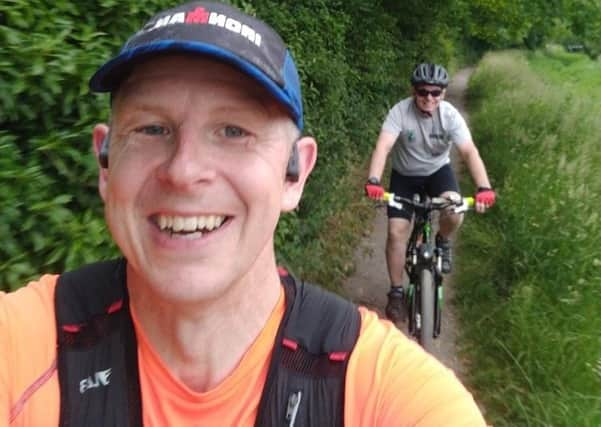 Nigel Johnson, of Greylees, last week set out to do two days of TriJOGLE (John O'Groats to Land's End) near his home, doing two miles of swimming, 80 miles of cycling and 18 miles of running each day, completing it in 23 hours and 38mins.
His wife Sarah and friend and fellow triathlete, Dean Marratty, acted as his support crew.
He had intended to take part in a full TriJOGLE this month, comprising nine triathlons in nine days covering the 900 miles from John O'Groats to Land's End, but it was postponed due to Covid-19. Nigel plans to do it next year, with each day covering 100 miles of swimming, cycling and running.
He explains he had still wanted to try and raise some funds this year and so, at short notice, decided to undertake the two triathlons of 100 miles over two days.
Nigel said: "During the 900 miles I will be climbing the equivalent of 29,000 ft, roughly the height of Mount Everest, and this is where the fundraising target has come from - £29,000."
A virtual quiz on Friday raised £670, taking his total from various events to £12,262 raised towards his target of £29,000 (which pays for 1,000 hours of Macmillan nursing care).
Nigel has been raising the money for four years in memory of his mum, Julie Johnson, who died due to ovarian cancer in 2000.
"Macmillan were a huge help to her, and our family, when she was diagnosed with terminal cancer," he said. "They offered emotional and practical support, making the incredibly difficult time of dealing with her terminal prognosis that bit more bearable."
He said: "I started by completing a 10k run in 2016, and this has seemed to snowball slightly out of control, leading to me completing Ironman Wales in September 2019, a 2.4 mile swim followed by a 112 mile cycle and a 26.2 mile run. My family, wife Sara and daughter Amy, have also been involved."