​Silvester made the best possible start to the weekend by taking pole position for race one on Saturday afternoon.
When the lights went out, Silvester made a great start and took the lead, which he held for the opening two laps, but the battle at the front quickly became an intense five rider affair with the lead changing constantly.
Silvester stayed in the lead group but lost a few places towards the end of the race and he eventually finished fifth, less than a second behind the race winner.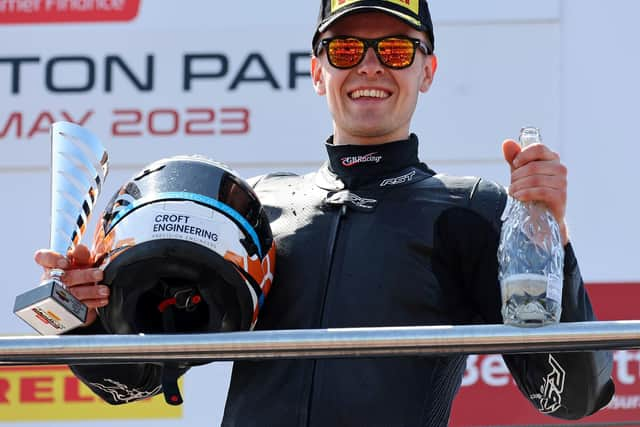 Silvester's initial disappointment at missing out on a podium position was tempered by the fact that his immediate championship rivals had all failed to finish so he actually increased his championship lead to 30 points. Furthermore, he'd recorded the fastest lap of the race which gave him pole position for race two.
After being beaten up in race one, Silvester decided to try and make a break for it in race two and for a while it looked like his plan was going to work. After three laps he had a one second lead but a small mistake on lap four meant the following group of riders closed up.
Silvester held the lead for eight laps but he couldn't shake off the other riders and he was soon involved in a brilliant three rider battle for the lead. Going in to the last lap, Silvester was in second place behind Asher Durham with Owen Jenner in third.
Three corners from home, Silvester grabbed the lead but when Durham pushed him wide at the penultimate corner, Jenner nipped past them both to take the win.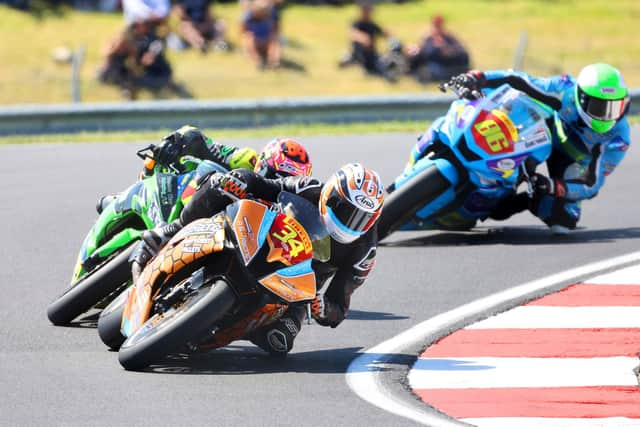 Silvester finished third just 0.36 of a second behind the winner to take his fourth podium in five races, extending his championship lead in the process and setting a new class lap record for good measure.
After race two, Aaron said: "It was another corker of a race today. I managed to lead and stretch out the pack in the first half of the race but unfortunately after a missed gear shift, I lost the gap to the lads behind and it was a real battle from then on.
"I'm really happy with this weekend's racing and a 38 point championship lead is fantastic at this stage of the season."
"Thank you to my amazing A & J Racing team for putting together such a good package for me and huge thanks to all my sponsors for supporting me and the team!"
The championship now moves on to Knockhill Circuit in Scotland on June 18.