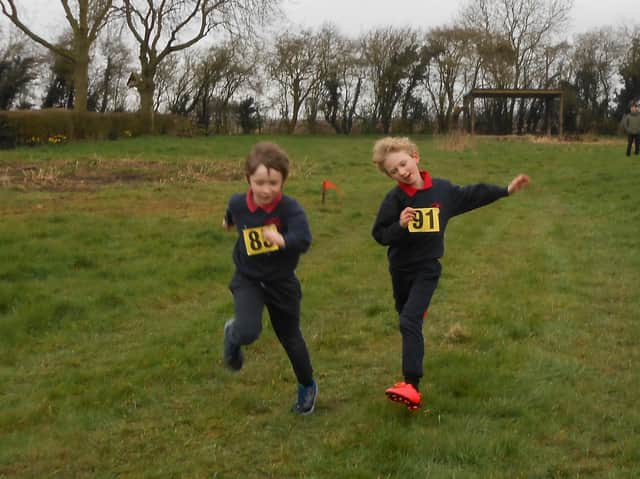 The end-of-season awards were presented at the final match of the 2019-20 Boston and District AC Junior Cross Country Series at the Punchbowl Lane venue on Saturday.
Eligible for series awards were all those runners who had competed in a minimum of three races in the five-match series.
Overall winners in the Year 1 and 2 category were Sienna Rush (Boston & District AC), who was presented with the girls' trophy and Henry Westwell (Bicker Prep. School) who claimed the boys' award.
In the section for Year 3 and 4 runners, the unbeaten Lumin Myers (BADAC) won the girls' trophy and Damian McNally (BADAC) was the best of the boys.
Pru Gilbert (Bicker Prep) won the Year 5 and 6 Girls award and though absent for the latest event on Saturday, Jack Clark-Atkins (BADAC) had done enough in previous races to win the boys' trophy.
The improved Evie Milner (BADAC) won the Year 7 and 8 girls' series award and Oliver Gilbert (Bicker Prep) took the honours in the boys' section, with Megan Reid (BADAC)claiming the Year 9 and 10 trophy.
For the final races in the series, competitors ran over a slightly revised course and the new route over the wet meadowland.
In the Year 1 and 2 race, Henry English and Henry Westwell produced the closest of finishes with the Bicker Prep School representatives locked together throughout the last 50 metres.
At the line it was English who triumphed in 3min 22sec.
Sienna Rush crossed the line third in a time of 4:12, with Emily Fisher (Bicker Prep) four second back in fourth.
Myers won the Year 3 and 4 race in 5:40, with Erin Norton (BADAC) showing a much improved turn of speed and at the end of a spirited run to cross the line second in 5:48.
Poppy Robinson (Lincoln Wellington AC) was third in 6:17.
Logan Rush (BADAC)was first in the Year 5 and 6 event, clocking 7:04. Gilbert was 14 seconds behind in second.
The Year 7 and 8 race was won by Milner in 9:34, while Louise Hirst (Sleaford Striders) was first across the line in the year 9 and 10 event, clocking 5:42.